WHY TAKE THIS COURSE?
Being a diver means exploring new underwater territories, and with an underwater scooter (Diver Propulsion Vehicle - DPV) the exploration range can expand even further. Riding a scooter is not only fun, but it also allows divers to cover more distance with less effort, even carrying extra gear.

GUE's DPV Level 1 course is designed to introduce divers to the skills and knowledge required to safely use Underwater Propulsion Vehicles (DPV) in open water environments.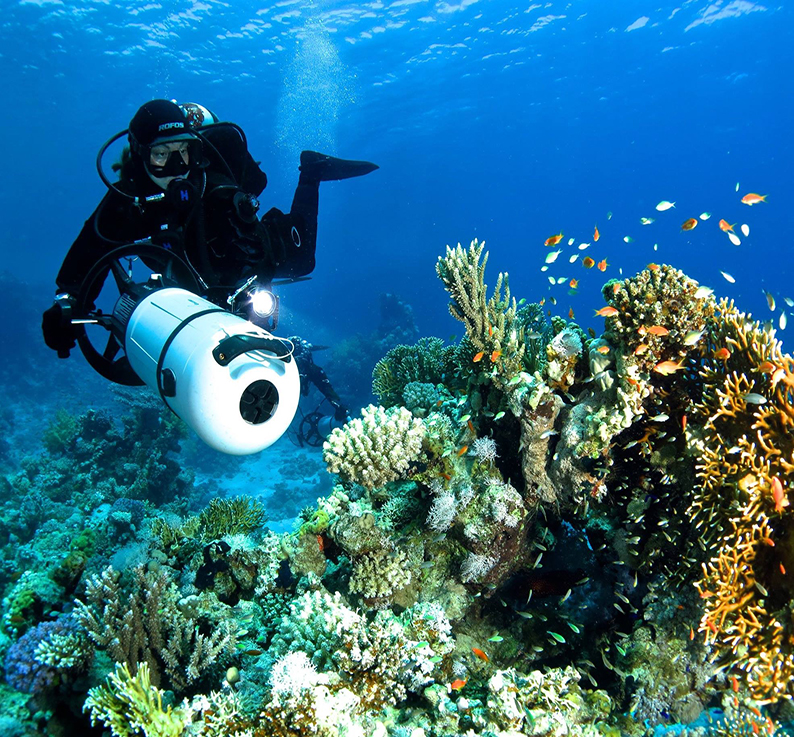 Who Is It For?
This course is essential for anyone interested in utilizing one of the most fun and efficient tools available to divers to cover bigger distances or carry more equipment with reduced effort.
WHAT WILL I LEARN?
Course outcomes include, but are not limited to: basic principles of DPV diving, dive planning, teamwork while using a DPV, environmental and conservation awareness, stress management, navigation, standard and emergency procedures, DPV maintenance and troubleshooting, and the potential hazards of diving with a DPV.
Applicants for a GUE DPV 1 course must:
Be a minimum of 16 years of age.
Be physically and mentally fit.
Be a non-smoker.
Be able to swim.
Obtain a physician's prior written authorization for use of prescription drugs, except for birth control, or for any medical condition that may pose a risk while diving.
Have passed the GUE Recreational Diver Level 1 course or the GUE Fundamentals course.
Have a minimum of 75 non-training dives, 25 of which are beyond GUE certification.
For a full list of course prerequisites, click here.
The Diver Propulsion Vehicle Level 1 course is normally conducted over three days. It requires a minimum of five dives and at least 24 hours of instruction, including classroom lectures, land drills and in-water work.
Navigation Primer
Extending experience is a natural progression with enthusiastic divers, and for GUE trained diving teams, environmental awareness is one of the most important aspects of their capabilities. Knowing where you are and how to navigate underwater will increase your comfort and confidence to perform safe dives with your team.
GUE's Navigation Primer
is a course designed to teach divers the basics of underwater compass use and natural navigation techniques.
Rescue Primer
Scuba diving is a safe outdoor activity with low accident rates, but as with all activities, participants should be prepared to handle emergencies and perform rescues to assist team members. The awareness of your ability to help will increase your confidence and make your dives safer and more enjoyable.
GUE's Rescue Primer
is a course designed to teach divers basic rescue techniques relevant to scuba diving emergencies.