GUE is supported by its diverse international community of divers and members. We use a small but efficient staff to bring you all the services and quality you expect from GUE, but we need your help to keep GUE Headquarters running and to sustain GUE's worldwide presence.
If you're wondering how you can help, there are actually many ways to support GUE!
Become a
Member
Becoming a member of GUE involves committing to a one-time gift of financial support, renewable yearly. Membership is a great way to stay up-to-date on the training, research, conservation, and exploration initiatives your gift will support. Membership is not the same as GUE certification: you do not need one for the other, but we encourage you to do both! If you loved your GUE course and want to support the organization, we hope you will become a member at the level that fits you best.
We have many levels of membership that fit all kinds of budgets and training goals. Membership offers many benefits in return for your support. Depending on the level of membership you select, benefits may include: discounts on GUE merchandise purchased through GUE.com, digital access to training and supplemental materials, access to GUE's quarterly journal
Quest
, and free course registrations!
To learn more about the levels of GUE Membership and the benefits they offer, please click on the link below.
Join GUE!
---
Donate

Directly to GUE

If you prefer, you can also choose to donate to GUE via PayPal. PayPal provides an easy interface through which to donate using any major credit or debit card, or a linked checking account. You do not have to have a PayPal account in order to donate this way!

You can use this same link to donate directly to Project Baseline. Just put "Project Baseline" in the special instructions text field after you click the "Donate via PayPal" link,

Additionally, since GUE is a 501(c)(3) not-for-profit organization, all donations to GUE or Project Baseline are tax-deductible in the United States! Anyone filing a U.S. federal income tax return can email info@gue.com to get a receipt for their donation.
---
Get Involved with GUE's
Conservation Initiative
GUE and its members conduct ongoing projects all over the world to advance our collective vision of excellence in all things aquatic.
Project Baseline is GUE's central conservation initiative which encourages and supports the long term oversight of local aquatic environments. Getting involved with Project Baseline is a great way to support GUE's mission of global conservation, and they are always looking for volunteers with any level of dive training, from any agency! To learn more or to find a Project Location near you, follow the link below.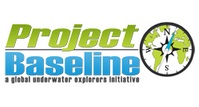 If you're looking for even more ways to support GUE, you can click on Partners at the top of the page to find a GUE Dive Center or an affiliate group near you. For more information on GUE's ongoing efforts in all three of its core values, click on the Education, Conservation, and Exploration links above.