Beginning With the End in Mind - Italian - PDF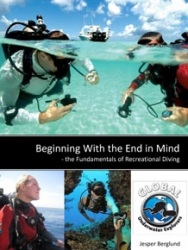 Italian Version
By Jesper Berglund
Translated by DIR Italia
Fundamentals of Recreational Diving
Format: Acrobat PDF
533 Pages
Written as the Workbook for GUE's Rec 1 course, this work is one in a series of GUE manuals that seek to establish a baseline for fundamental and advanced diving practices. The overriding assumption tying all these together is that there is a baseline of fundamental skills and procedures that promote safe, efficient, and ultimately fun diving.
Note: This manual is sold in PDF file format and requires the use of Adobe Reader (or another Portable Document Format reader) to be viewed.
The reader is free and can be downloaded from www.adobe.com.
Once your order has been processed, you will be able to download the manual by navigating to your My files section in your personal menu.