Solomon Islands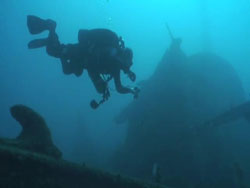 By Liam Allen
A recent GUE trip to The Solomon Islands saw 4 divers enjoy amazing wreck diving with huge WWII historical significance known as the Battle of Guadalcanal.
The Battle of Guadalcanal, was fought between August 7, 1942 and February 9, 1943 on and around the island of Guadalcanal in the Pacific theater of World War II. Fiercely contested on the ground, at sea, and in the air, the campaign was the first major offensive launched by Allied forces against the Empire of Japan.
During our trip, limited by certification to Tech 1 diving we visited 6 wrecks in total over 10 dives: "Hirokawa Maru" (Bonegi I), "Kinugawa Maru" (Bonegi II), Kyusyu Maru, Azumasan Maru, USS John Penn and the USS Kanawha. Although all of the wrecks were outstanding we were amazed by the USS Kanawha which is a big American fleet oiler sitting upright near the entrance to Tulagi Harbour at about 60 metres (200 ft) with the decks at an average depth of 45m (160ft). As a warship, it was heavily armed with guns on the bow, bridge, midships and stern.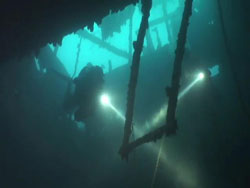 On 7 April a group of enemy Vals slipped through fighter defences and zeroed in on Kanawha as she awaited an escort in Tulagi harbor. At 1502, shortly after clearing the harbor, the slow and vulnerable oiler came under bomb attack. The first five planes hit an oil tank under the bridge, causing fires to spread rapidly along the deck. The captain ordered the ship abandoned to minimize danger to his crew from burning oil on the surface. After rescue operations were underway, volunteers returned on board and extinguished fires amidst exploding ammunition. The tug 'Rail' towed Kanawha to the west side of Tulagi where she was beached shortly before midnight. However, she slid off into deep water and sank before daybreak 8 April. Nineteen of her crew were lost.
The Solomon Islands is home to some of the best wreck diving in the world. The water temperature is a balmy 30°C on average even at depth. Conditions are superb, great vis, calm seas and completely stress free. Although we were limited by certification there is diving for all levels – recreational through to exploration. Best time of year is May to August. We used Invader Charters as our operator and they catered for our every need, a big thank you to Chris, Stu, Grant and James for a fantastic trip.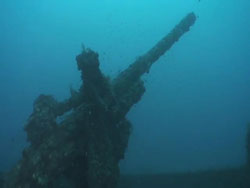 GUE Silver members and above can watch a video from the dive on the USS Kanawha here.