As a way to empower the next generation of divers, GUE has created the NextGen Scholarship to provide a year of training and other benefits to a deserving diver on their quest for excellence. If you're a certified diver who is passionate about pursuing further education, have an interest in exploration and conservation, and are ready for a year of new adventures, keep reading to learn more!
How it works
Through the generous donation of course spaces from GUE instructors, one year of tuition-free GUE training is made available to divers. These course spaces include the majority of GUE's curriculum, and with a generous travel budget, dedicated support from a NextGen Mentor, and a new set of gear from Halcyon, scholarship recipients are able to undertake GUE training in the locations and environments they're most passionate about. In exchange for this support, scholars will provide both written and video documentation of their year as a NextGen scholar and take part in a NextGen presentation at the next GUE conference.
Eligibility
To qualify for the 2023 NextGen scholarship, you must*:
Be between the ages of 21 and 30
Be certified as an Advanced Open Water diver (or equivalent)
Have conducted a minimum of 20 dives
Be medically fit for diving
Be fluent in English
---
*GUE staff, GUE instructor candidates, and GUE instructors, in addition to employees of corporate sponsors and their families, are not eligible.
Application Requirements
Once the application window opens, eligible divers will need to submit:
A completed online scholarship application form, including 1,000-word essay
A short "elevator speech" video (less than 2 minutes long) about your diving background, goals, and why you are a good candidate for the scholarship
A character recommendation from an individual/community member in good standing (e.g., former employer, pastor/minister, college lecturer/professor, commanding officer, government official, GUE instructor, etc.)
Timeline
APRIL 1: Online application opens
JULY 1: Online application closes at 23:59 UTC -12:00
EARLY SEPTEMBER: 2023 NextGen Scholar is notified and final eligibility is confirmed
MID-SEPTEMBER: Unsuccessful candidates are notified, 2023 NextGen Scholar is announced
NOVEMBER 1: Scholarship year begins
Scholarship Benefits
Free GUE training for one year
A $2,000 USD travel budget
$3,000 USD worth of diving equipment from Halcyon
GUE Platinum level membership for two years
Free registration for one GUE conference, including socials and field trips as well as a meet-and-greet with GUE leadership
NextGen Scholarship Mentor (a senior GUE instructor)
Divers Alert Network (DAN) membership and diving accident insurance
NextGen apparel and swag to wear during GUE events and training
GoPro camera to document a year as a NextGen Scholar
Scholarship Deliverables
In addition to learning, during their year as a NextGen Scholar, recipients will:
Provide two blog posts and video entries for GUE's blog, InDepth
Write one Quest journal article about their experience
Provide a GUE.tv submission if requested
Provide content for a NextGen Scholar profile on GUE.com
Maintain a blog discussing progress during the scholarship, to be linked to their Schholar profile page
Maintain an active social media presence
Give a short presentation at the GUE conference
Respond to inquiries from the next round of scholarship applicants
Submit an end-of-scholarship report discussing their journey and what's next, accounting for finances, and acknowledging GUE folks that helped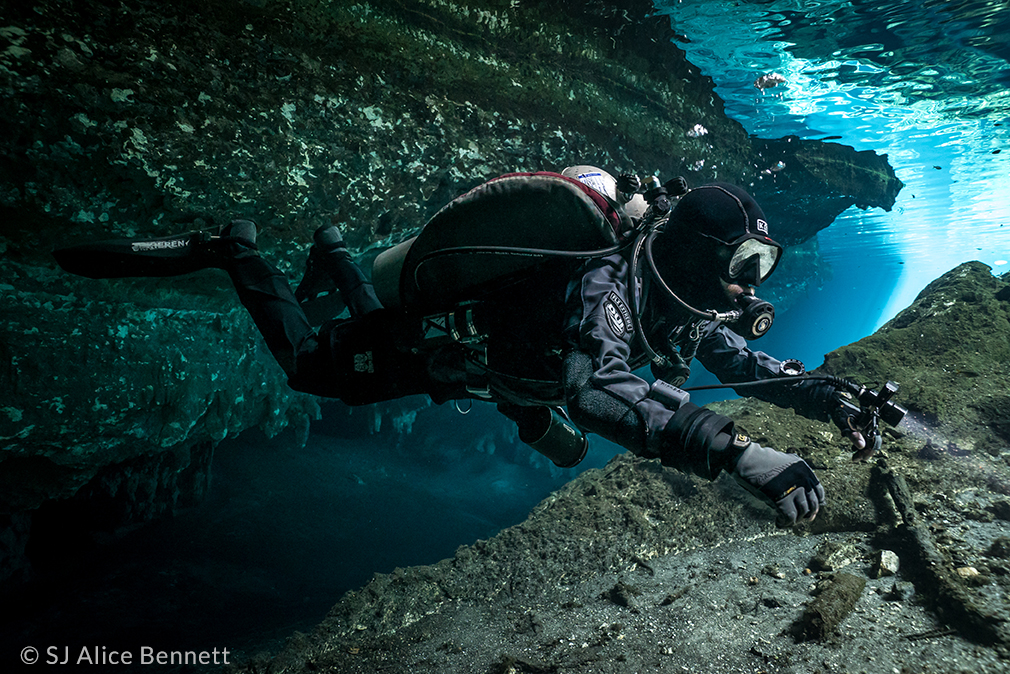 Thank you for your interest in the scholarship!