Mexico Cave Exploration Project - April 2009 update
- By Chris Le Maillot
Recent efforts by the Mexico Cave Exploration Project & Centro Investigador del Sistema Acuifero de Quintana Roo (CINDAQ) are marked by smaller scale mini projects. The method consists of one or two off-road vehicles to move divers and equipment as close as possible to a cave opening and for the following few days the passages found are explored and documented. Easier to schedule and less divers and gear to transport allows this method to be repeated more frequently than larger scale projects required for more extensive penetrations.
The most recent of these concentrated efforts took place from March 30 to April 4 in the Ox Bel Ha cave system and has resulted in the survey of some 2,100 meters / 7,000 ft of new passageway. This time, the team entered the cave from an opening named Cenote Coka Ha.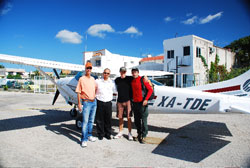 Additionally, more cenotes in the Sian Kaan Biosphere Reserve were observed and located from the air during a fly over of the area. The SKBR represents 700,000 acres of wet lands including mangrove, marsh, savannah and swamp. This UNESCO World Heritage site borders the Ox Bel Ha cave system to the north.
Project divers: Alex Alvarez, Chris Le Maillot, Sam Meacham and Daniel Riordan.
Special thanks to: The Waitt Institute for Discovery, The National Geographic Society, The Nature Conservancy, Global Underwater Explorers (GUE), Joyce and Lester Coleman, Jerry Simpson, Will Harte, Alex Angell and Eva Manessiotis, Louisa Meacham and John Faraguna, Haciendas de Bacalar, Ejido Jose Maria Pino Suarez, Ejido Tulum, Centro Investigador del Sistema Acuifero de Quintana Roo (CINDAQ) & Zero Gravity Dive Center.