GUE Egypt and the Hebat Allah: Preserving Egypt's Artificial Reef
Author: Bartek Cyperling
Photography: Jesper Kjøller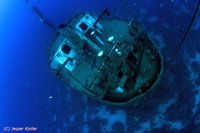 As a part of a cooperation between GUE and HEPCA (Hurghada Environmental Protection and Conservation Association), resident GUE divers in Hurghada (Red Sea, Egypt) are helping install and maintain the moorings on the local wreck – the
Hebat Allah
. The 51-meter wreck of a coastal freighter, the
Hebat Allah
was sunk in 2004 and opened as an official dive site in December 2005. It is the first and only artificial reef dive site created in the Red Sea and also a unique marine research opportunity for monitoring the coral reef growth. The wreck lies intact in 45m of water with its masts reaching 25m, allowing for a full spectrum of study of coral succession.
The series of initial dives in October 2009, performed to estimate the overall condition of the wreck and its existing moorings, revealed extensive marine life. A mooring installation soon followed, as well as further video documentation, all of which ended successfully in November. More recent dives were focused on the guideline works inside the wreck and biological survey around it. During December '09 and January '10, the GUE Egypt divers completely removed old and partially destroyed guideline from inside the wreck, cleaning the interior from debris and removing the remains of the mooring lines from around the wreck.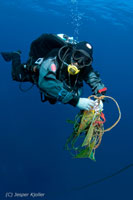 Future dives are going to be aimed at more thorough cleaning of the interior of the wreck and the holds, supervising the condition of the wreck and the moorings, and monitoring coral growth.
The divers involved in the
Hebat Allah
project are the three resident GUE instructors in Hurghada — Dorota Czerny, Hassan Adly, and Bartek Cyperling — accompanied by countless visiting GUE divers from abroad. More information can be found on GUE Egypt's website:
www.gue-egypt.com
.