Exploration

GUE engages wide-ranging projects to explore our oceans, lakes, rivers and caves. These projects involve a diverse range of interests from exploratory assessment to discovery of never before seen shipwrecks. GUE is also well known for cutting edge exploration of the farthest reaches of deep underwater cave systems.

GUE's
Woodville Karst Plain Project
regularly conducts some of the most extensive dives ever completed. The WKPP team has been
exploring caves at record distances
for approximately two decades, holding most of the major
cave diving records
, including the the longest penetration into a flooded cave system (26,000 feet, requiring a bottom time of 12 hours at a depth of 300' – nearly 30 hours total).
GUE's
MCEP Project
has invested more than a decade exploring the three longest caves in the world. This GUE team of divers is widely regarded as among the most capable cave explorers on the planet, investing countless hours to the exploration, documentation and conservation of the caves in Mexico.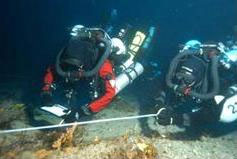 GUE collaborations with the Italian Ministry of Culture provided insight into an ancient wreck site off the coast of
Pantelleria
. The GUE team of divers, located, documented and created a three dimensional survey of this wreck site before retrieving ancient amphorae for museum display.
GUE principles and founders including GUE Project
Ocean Discovery
have dedicated approximately two decades to the location and documentation of wreck sites throughout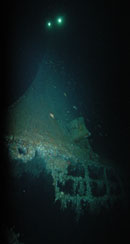 the Baltic and Mediterranean Seas. For example,
GUE's 1999 Britannic Project
provided careful documentation of damage to Titanic's sister ship while delivering video to the Greek Ministry and supporting UK historical evaluation.
Meanwhile GUE efforts to assist local governments in evaluating previous natural and cultural resources include support of the Narvik War Museum work during
GUE Project Narvik
, exploration and environmental sensitivity estimates for fragile caves within Papua New Guinea and a recent project to liaise with the Chinese government while exploring, evaluating and documenting the diversity and vulnerability of local underwater caves.