Diving Wrecks in Croatia
This is my first visit to dive the wrecks in Croatia; I'm quite excited because I will combine this trip with trying out my new underwater housing for the XDCAM EX1 HD video camera.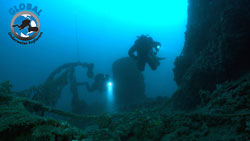 The idea is to do 3 days of diving in the Krnica region and make a small video report about the dives. The dive operation is run by Maurizio from Krnica Diving, a big guy who knows the area and the wrecks like the inside of his pocket. Maurizio provides us with everything we need gas wise and advices us in our choices of wrecks to dive. When we arrive the first morning we start loading our gear in a fisher-type-like-boat which does not look like it runs very fast. How wrong could I be, 2 x 330 HP engines are hidden and within no time we are flying towards our first destination.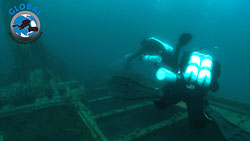 SS Lina
The SS Lina is a steamship carrying a wooden cargo that sank in 1912 by hitting the shore in a thick fog. She lies with the bow top in 25 meter and the stern in 55 meters of water.
We follow a line down and because the water is a bit milky we only start seeing the wreck from a depth of 15 meters. The water is actually pretty cold, about 12c at depth. Fortunately we brought our argon kits instead of inflating bits of 18/45 mix in to our drysuits. I descend into one of the cargo rooms, light enters from all directions and the sight is just awesome. After a slow ascend we do our gas switch at the top of a mast which conveniently stops at 21 meters.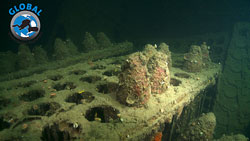 Rossarol
The Rossarol was a Poerio class light explorer with duties as scouting, escorting destroyers and fighting smaller ships. It hit a mine in November 1918 and sank to a depth of about 50 meters.
Man... What a bad visibility, I'm really surprised and have to admit that when diving wrecks in the North Sea the vis is generally a lot better. This makes it challenging to navigate the ship, because of the explosion it is quite messed up. But to my surprise when crawling in to a crack in the ship I discover crates with shells and other ammunition, what a reward...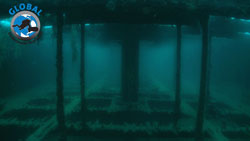 Argo
After complaining about the lousy visibility Maurizio decides to move to another location with a higher probability to see something. The Argo, a former minesweeper and submarine hunter was transporting tomatoes on her last voyage when she struck a mine in January 1948. She lies nice straight up and split in two at a depth of 50 meters.
This is the stuff we came here for, descending in cobalt blue water with the silhouette of the Argo appearing slowly out of the fog. I float through the gangways while filming, and enjoy every minute of the recognition of a real ship. I spot a big scorpionfish and put it to the memorycards of the camera before it sneaks away when I come too close. Our planned 30 minutes of bottom time comes way too soon and we start our decompression.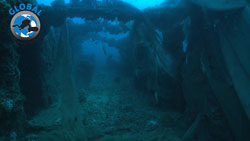 Luana
The Luana was a cargo ship, transporting bauxite from Manfredonia to Venice when she hit a mine in march 1947 to sink to a depth of around 50 meters.
When we go down we touch the stern at 45 meters and start working our way to the big wheel which is still in place. Big schools of fish are literally hiding the wreck and some of the gangways are covered by fishing nets which give a spooky atmosphere when swimming past them. The visibility is excellent and although we were told that currents can be strong, things are relatively quiet making it a nice and relaxed experience.
Conclusion
I would say that for us Europeans this region of Croatia makes up for a great destination with a wide variety of wrecks in all ranges. Facilities and conditions are good. I personally really liked the short visit and the amount of diving that can be done in a long weekend. I will be back for more, no doubt.
GUE Silver members (and higher); click here to watch video from these dives.
JP Bresser