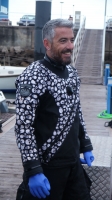 View Scheduled Classes
Classes I teach:
Discover Diving
Recreational Supervised Diver
Recreational Diver 1 - Nitrox
GUE Fundamentals
Doubles Diver
Drysuit Diver
Juandi Alcazar Martin
Madrid, Spain
Murcia, Spain
+34630436288
+34630436288
juandi@gue.com
www.juandialcazar.com




Professional
Working in diving industry for 20 years.
15 years at Rivemar Dive Center in La Azohia, Murcia, Spain, 3 of them as manager.
3 years at sumergete.es teaching scuba and freediving around Spain coast.
2 years at juandialcazar.com teaching scuba and freediving around Spain coast.
Education
Physical Education and Sports Science (INEF) at Universidad Politécnica de Madrid, Spain
Diving Qualifications
2003 OPEN WATER SCUBA INSTRUCTOR PADI
2005 ADVANCED TRIMIX DIVER TDI
2006 FULL CAVE DIVER TDI
2008 ADVANCED NITROX INSTRUCTOR TDI
2008 DECOMPRESION PROCEDURES INSTRUCTOR TDI
2008 EXTENDED RANGE INSTRUCTOR TDI
2010 UTD TECHNICAL INSTRUCTOR
2014 ADVANCED OPEN WATER INSTRUCTOR SSI
2014 AIDA FREEDIVING INSTRUCTOR
2014 STRESS AND RESCUE INSTRUCTOR SSI
2018 EXTENDED RANGE TRIMIX INSTRUCTOR SSI
2018 FREEDIVING INSTRUCTOR SSI
2019 GUE REC1 INSTRUCTOR
Diving Experience
Around 7000 logged dives between recreational, wrecks and caves, Spain and abroad
Community Involvement
I have been involved in some cave and wreck explorations, such as Cueva del Agua, Cueva de las Calaveras and Fuentona de Muriel caves, or the discovery of Angelo Parodi and Parpusa wrecks, in Spain.
Also have coordinate several beach and diving sites annual cleaning in La Azohia and Mazarron, Spain.
Special interests
Teaching and sharing my knowledge
Exploring caves and wrecks
Traveling
Sports like swimming, mountain bike downhill and ski.
Publications
Additional languages
Additional Info

I am in love with teaching for 20 years, still motivate as the first course, i really like to share experience, travels, courses or explorations with my students and friends.
I really like to keep on learning and evolving in life and in scuba, meet new people and be a part of a strong community to explore and conserve our underwater world