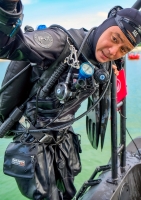 View Scheduled Classes
Classes I teach:
Discover Diving
Recreational Supervised Diver
Recreational Diver 1 - Nitrox
GUE Fundamentals
Doubles Diver
Drysuit Diver
Michael Leung
Singapore
Bali, Indonesia
+65 9725 7905
michael@michaelleung.net

Diving Qualifications
GUE Cave 2 Diver
GUE Cave 1 Diver
GUE Technical Diver 1
GUE DPV
Technical Sidemount Diver
Hypoxic CCR Diver (Revo)
GUE Instructor
SSI Extended Range Instructor
PADI Recreational Instructor
Diving Experience
Number of Dives: 3000+
Favorite Local Dive Site: USAT Liberty, Tulamben, Bali
Favorite Cave: Mayan Blue, Tulum, Mexico
Favorite Sealife: Hammerheads, Mantas, Sea Lions
Favorite International Dive Site: Coco's Island, Costa Rica
Languages
English
Cantonese
Mandarin
Additional Info

I still remember my very first dive, off the southern coast of Taiwan and how that one 45 minute experience changed my life. And although I enjoy diving in all of its forms, I have a special affinity for teaching Recreational Scuba Diving programs simply because I won't ever have that "First Dive" experience ever again, but the next best thing is to relive it by being there and seeing the looks on my student's faces after that transformational first dive!

Now based in Singapore, When I'm not teaching, I enjoy hanging out with the Bumphead Parrotfish in Tulamben, Bali, Admiring the sheer beauty of the Reefs of Raja Ampat, Swimming alongside Hammerhead Walls in Coco's Island, or diving the Caves of Mexico!