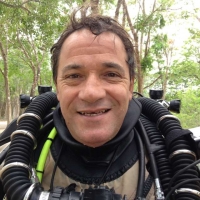 View Scheduled Classes
Classes I teach:
Discover Diving
Recreational Supervised Diver
Recreational Diver 1 - Nitrox
Recreational Diver 2 - Triox
GUE Fundamentals
Doubles Diver
Drysuit Diver
Triox Primer
Rescue Primer
Navigation Primer
Professional
Education
Universidad Nacional Autonoma de Mexico UNAM
Diving Qualifications
• Cave Instructor for NACD, TDI and FMAS
• Open water Instructor, PADI
• Trimix instructor TDI, FMAS
• KISS ccr Rebrether Diver, suited for Caves
• GUE fundamentals, TEC 1 , Cave 2, and Side Mount Diver
• Gue Fundamentals and Rec 1,2 Instructor.
Diving Experience
• 30 years of diving experience
• 23 years diving instructor experience
• 6000+ logged dives
• 3000+ cave dives
• 3000+ openwater dives
• 500+ cave dives using Diver Propulsion Vehicles
• 600+ cave dives using stage diving techniques
• 80+ sidemount dives
• 250+ CCR Rebrether Cave Dives
• 25 SCR Cave Dives
• Longest Penetration - 15,000 ft
• Cave Passage Explored and Surveyed - +50,000 ft
• Longest Dive 360 min
Community Involvement
• Founding Member of Mexico Cave Exploration Project (MCEP)
• Founding Member of Proyecto Espeleologico Tulum (PET)
• Founding Member of Ejido Jacint Patt Project (EJPP)
• Exploration Diver for Sistema: Ox Bel Ha, Yax Chen, Sac Actun, Nohoch Naa Chich, Dos Ojos
• Cave exploration and survey of Systems: Maya, Akun Hu, Herradura, Bahia Tortugas
• Production of Cave Maps
• President of BUCEMA A.C. Buceo en Cenotes y Mar A.C. a Non profit and Civil Asociation
• Discover of the remais of the oldest American, found in Hoyo Negro Tulum
• Active member or the Proyecto Espeleologico Subacuatico Hoyo Negro Tulum Quintana Roo . since 2010 to 2018
• National Geographic Grantee in diferent projects.
Special interests
• Exploration, Survey and Mapping
• Geology and Hydrology
• Sustaining Development
• Cartography
• Photogrametry
Publications
• Rissolo, D., P. Luna, A. Nava, A. Alvarez, F. Attolini, J C. Chatters, R Chavez Arce, and S. Meacham 2012 Recent Investigations in Hoyo Negro: A Submerged Late Pleistocene Cave Site in Quintana Roo, Mexico. Paper presented at the Society for Historical Archaeology 45th Annual Conference on Historical and Underwater Archaeology, Baltimore, MD.
Languages