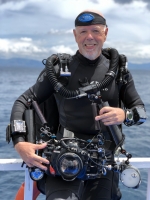 View Scheduled Classes
Classes I teach:
Discover Diving
Recreational Supervised Diver
Recreational Diver 1 - Nitrox
Recreational Diver 3 - Trimix
GUE Fundamentals
Doubles Diver
Drysuit Diver
Triox Primer
DPV Diver 1
Documentation Diver
Technical Diver 1
Jesper Kjøller
Dubai, United Arab Emirates
Denmark
+971 554317155
jk@gue.com
www.jesperkjoller.com




Professional
Senior Marketing Supervisor, Deep Dive Dubai, Dubai (2015- )
Training Manager SSI Nordic (2013-2017)
Editor-in-Chief, DYK and Dive The World (1999-2013)
Editor-in-Chief, Quest GUE's Member Journal (2021- )
Education
Post Graduate Degree in Music
Bachelor Degree in Business Management
Diving Qualifications
INSTRUCTOR QUALIFICATIONS:
GUE Tech 1 Instructor (2017)
GUE Documentation Diver Instructor (2014)
GUE DPV Instructor (2013)
GUE Fundamentals Instructor (2011)
PADI Tec Deep Instructor (2010)
PADI Trimix Instructor Trainer (2010)
Emergency First Response Instructor Trainer (2004)
PADI Course Director (1999-)
DIVER QUALIFICATIONS:
GUE CCR 1 Diver (2014)
GUE CCR 2 Diver (2020)
GUE Tech 1 Diver (2009)
GUE Tech 2 Diver (2010)
GUE Cave 1 Diver (2010)
GUE Cave 2 Diver (2012)
Poseidon MKVI Diver (2013)
Diving Experience
5000+ dives
1200+ wreck dives
2000+ photo dives
400+ JJ-CCR (GUE config) dives
50+ cave dives
1000+ technical dives (trimix, decompression, DPV)
350 dive students trained
300 instructors trained
Dived in over 35 countries: Denmark, Sweden, Norway, Finland (Åland), Iceland, Holland, Germany, France, England, Austria, Spain, Italy, Croatia, Malta, Greece (Britannic), Cyprus, Corsica, Egypt, Sudan, Djibouti, the Maldives, Tanzania, Israel, USA, Cuba, Bonaire, Guadeloupe, Mexico, Cozumel, Indonesia (Sulawesi, Bali), The Philipines, Papua New Guinea, Malaysia, Myanmar, Thailand, Micronesia (Chuuk), Marshall Islands (Bikini), Oman and UAE (Dubai, Fujairah, and Sharjah).
Community Involvement
Founder of GUE Denmark 2013
Zubara Reef Project, UAE 2017
Britannic 2018
Red Sea Wreck Exploration Project 2018-
Mars Field Study 2019-
SSI Platinum Pro 5000 Instructor
Special interests
Underwater photography and video
Wreck diving
Bike racing – road and MTB
Fitness and nutrition
Music
Publications
Several hundred articles about diving with underwater photos in diving magazines, newspapers, books, and websites all over the world.
Editing and layout of GUE teaching materials among them Tech and CCR programs, Project Reports, manuals, presentations, and posters/promotional material.
Quest editor-in-chief
Additional languages
Additional Info

Originally a professional musician, I fell in love with diving over 25 years ago – an experience that changed my life. I became a PADI Instructor in 1994 and a PADI Course Director in 1999. During that period I still played and taught music in the winter and managed a dive centre in Copenhagen in the summer. But it was time to make a career choice, and diving won when I was offered the editor chair of the Danish version of DYK – the Scandinavian Diving Magazine, a position I held for fifteen years. In 2011 I founded DIVE THE WORLD – The International Dive Magazine.
I started dabbling in DIR and technical diving in 2001, but for no particular reason, I did not complete my first GUE-course until 2007. Since then, I have not looked back and are now very proud to be part of the GUE instructor team.