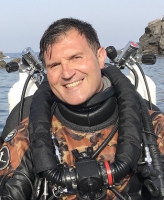 View Scheduled Classes
Classes I teach:
Discover Diving
Recreational Supervised Diver
Recreational Diver 1 - Nitrox
BLS-D & Oxygen First Aid Instructor
Advanced Oxygen & Neuro Instructor
First Aid Instructor
Oscar Alegre
Madrid, Spain
+34 678 535 773
+34 678 535 785
oscar@gue.com
oalegre@oceanum.es
www.oceanum.es

Professional
I have worked for more than 20 years doing financial and economic advice to companies and individuals, combining it with technical management and management in several dive centers.
I have experience and Training in the management of human teams, as well as the management of projects and various events.
Education
MBA General Management and Business Administration
Diploma in Business Studies
Diving Qualifications
GUE REC 1 Instructor
GUE Tech1 Diver
GUE Documentation Diver
PADI Course Director & TEC DEEP Instructor Trainer
IANTD Instructor Trainer Trimix Normoxic, Tek Sidemount, Gas Blender, Technical DPV & Technical Wreck.
IANTD Instructor Cavern Instructor & Intro to Cave Instructor
PADI SPECIALTY Instructor Trainer DPV, Dry suit, Wreck, Nitrox, Deep, Night, Underwater Navigator, Altitude, Search & Recovery, Rebreather SCR, Underwater Photographer/VideoGrapher, Equipment Specialist, Ice, Gas Blender & Oxygen Provider
EFR Instructor Trainer
DAN Instructor Trainer
IAHD Instructor Trainer
Diving Experience
+3000 dives
Wreck
Deep
Cave
Ice
DPV
mCCR & SCR Rebreather
JJ-CCR
Community Involvement
Participated in several projects of Conservation and preservation of the underwater environment.
Also social projects of integration of divers with some type of disability
Special interests
Wreck, Cave & Ice diving
Underwater archeology, scientific diving & environmental conservation projects
Publications
Diving Magasine "Inmersión"
Languages
Spanish
I understand French, Italian and English
Additional Info

He started in this fantastic world of diving more than 27 years ago, although his passion for the sea dates back to his childhood. During all these years he has accumulated experience, learning from different sources and evolving in diving in different environments and equipment. All this experience together with the training acquired in different organizations has allowed him to actively teach many of the levels of technical diving for different certification organizations, both at the diver and instructor level, allowing him to transmit in the best way the passion for the oceans and spread to other people, always safely, comfortably and pleasantly, respecting the environment.
He is passionate about diving in general he feels predilection for wrecks dives.