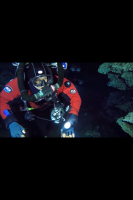 View Scheduled Classes
Classes I teach:
Discover Diving
Recreational Supervised Diver
Recreational Diver 1 - Nitrox
GUE Fundamentals
Doubles Diver
Drysuit Diver
DPV Diver 1
Ali Fikree
Dubai, United Arab Emirates
Kuwait City, Kuwait
+971504561860
+971504561860
ali@gue.com
alifikree76@gmail.com

Professional
Welding & Fabrication QA/QC Engineer.
Onshore Technical Training Specialist for PTW systems ( E-vision) and Gas Plant/ Oil Refinery Management.
Task Risk Assessment Instructor
H2S/AGT/Confined Space Entry/ Hot Work Supervisor/Radiation Safety Instructor
Education
North Alberta Institute of Technology, Edmonton ,Alberta, Canada: Journeyman Diploma with Red Seal Award in Welding-Specialized in nonferrous and aluminum welding/joining technology.
American Welding Society: Certified Welding Inspector / Welding Supervisor.
American Society for Nondestructive Testing: ACCP Level II Visual ( Pressure Equipment & General Industry).
NACE: Corrosion I.
Diving Qualifications
GUE Tech 2+
GUE Cave 2.
GUE Cave Survey.
GUE DPV Cave
GUE Rebreather ( Halcyon RB80 + JJCCR).
GUE DPV
GUE Rec/Fundamentals Instructor.
GUE DPV 1 Instructor
IANTD Instructor ( Inactive).
NAUI Instructor (Inactive).
BSAC Open Water Instructor (Inactive).
BSAC Advanced Diver (CMAS 3 star).
Diving Experience
3000+ Dives
800+ wreck dives
100+cave dives
100+ rebreather dives.
300+ stage decompression dives
300+ trimix dives
200+ DPV dives
Community Involvement
Developing the GUE community within the Middle East with research, education and active exploration projects.
U-533 Exploration/Discovery Project ( UAE): 2001/2005/2017/2018
Egadi Island Archeological Project ( Italy): 2017
Princess Of The Orient Documentation Project ( Philippines): 2018.
Britannic Expedition 2018.
Project Uncharted: Documentation + Photogrammetry of wrecks in the ME region/
Founder: GUE UAE
Owner: Pioneer Diving UAE
Special interests
Motorcycles.
Side scan Sonar & ROV Technology.
Wreck research & location.
Surface Supply for UW Archeology.
Salvage
Publications
Emirates Diving Association Magazine: 2012
Emirates Diving Association Magazine: 2018
Quest magazine 2018
Quest Magazine: 2014
Additional Info

Regulator Service tech : APEKS.
DPV Service Tech: SUEX & GAVIN.
Small Boat Handling and seamanship.
Outboard Engine repair.
Gas Blender.
BOSIET Offshore Training: First Aid/CPR/HUET with EBS/Firefighting and self-rescue/Sea Survival.



Able to travel and teach within the Middle East ,North Africa, Central Asia & East Europe.