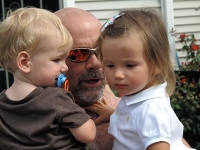 View Scheduled Classes
Classes I teach:
Discover Diving
Recreational Supervised Diver
Recreational Diver 1 - Nitrox
Recreational Diver 2 - Triox
GUE Fundamentals
Doubles Diver
Drysuit Diver
Triox Primer
Rescue Primer
Navigation Primer
DPV Diver 1
Edward P. Hayes III
Glastonbury, CT., United States
(860)682-0052 office
(860)682-0052 cell
edhayes@gue.com
www.evolutionscuba.com
www.brownstonepark.com
www.powderridgepark.com

Professional
Owner, Evolution Scuba Llc.
Consultant / Master Instructor -Scuba Shack LLC - Rocky Hill, CT.
Founder,Owner -Brownstone Exploration & Discovery Park LLc.-2004-present - Portland, CT
Owner-Powder Ridge Mountain Park LLC, Middlefield, CT.
Owner- Marquee Events & Catering LLC, Hartford, CT.
Owner & Managing member-Hayes Tool LLC,- Simsbury, CT.
Diving Qualifications
GUE Primers,Fundamentals,Rec 1,2,&3, and DPV 1, Instructor GUE
Cave 2 GUE
Tech 1 GUE
Master Instructor PADI
CPR/AED/First Aid-infant/child/adult, instructor EFR
First Aid, O2/AED/Haz Marine, instructor DAN
Cave Diver NSS-CDS
Deco/adv nitr/blender TDI
PSI - Visual Tank , Eddy Current certified
OTS/Interspiro/ AGA. certified Tec
DOT Hydrostatic Testing Facilities Mangager Cetified
SDI TDI Instructor
Diving Experience
Started diving at an early age with my father , who instructed the local fire dept. team, never certified then. First certification was in 1997. Since then I have logged over 5000 dives in all waters. The deep cold and dark of the Northeast USA, to the clear blue of the islands across the world, to the fresh water caves of FL. , Mexico, or the Bahamas Whether it is to teach divers, take pictures, shoot video or tool around on a scooter, the passion is simply to dive. When asked what is my favorite place to dive I reply, "a place that I have never been." I try to dive as much as possible and still mix in other aspects of my life for a nice balance.
Community Involvement
The Northeast is diverse in it's underwater nature, so, along with the help from all of the staff at our Facility, Evolution Scuba and our other Scuba relationships in our area, we try to get our community diving period. The group organizes dive trips throughout the world for at least 10 trips a year through the shop and all with different dive trip leaders. We have been known to take as little as 2 divers to 35 divers with us on these adventures. As far as the local climate , we have coined a term of sorts, "Drive and Dives", every year we set up as many local Drive and Dives as possible, our instructors and dive masters all take a group to explore the sights that are reachable in a days times frame.
Evolution Scuba and I also work as much as possible with the local dive clubs and their events to help support the local dive industry. The shop donates time of instructors for various demos of gear and or dive techniques. The dive medicine Dr.s. in our area aslo get as much support from Evolution Scuba and myself in the way of supportinfg all their educational efforts. We are also highly motivated to reteach, retrain and help the Public Safety Divers and Teams in our area. We have brought the GUE Training Philosophy into a whole new arena, Public Safety Diving.
Evolution Scuba and I try to support efforts in our area for GUE of course. We have held seminars on the agencies methods and dive skills, to help develope more local GUE Divers. We have in the past and plan for the future to help in any of the local exploration projects.
Special interests
My wife of 11 years and I are active in various other ways to burn time and keep living life to the fullest..
Training to keep our fitness level at a very high level
Going to the range to keep our firearm proficiency up and to blow things apart.
Riding our Harleys any where we can.
Rock Climbing indoors or out.
Skiing/Snow boarding across the USA
Spending Time with our Doberman, Bella
Relaxing with our friends.
Basically living for every minute.
Additional Info

As far as the type of instructor I am : A very hard driven, passionate, loud and able to get my point across to all, type of instructor (-:

"I will work with you till you get it "