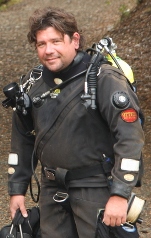 View Scheduled Classes
Classes I teach:
Discover Diving
Recreational Supervised Diver
Recreational Diver 1 - Nitrox
Recreational Diver 2 - Triox
Recreational Diver 3 - Trimix
GUE Fundamentals
Doubles Diver
Drysuit Diver
Triox Primer
Rescue Primer
Navigation Primer
DPV Diver 1
Documentation Diver
Gas Blender
Technical Diver 1
Technical Diver 2
Recreational Dive Leader
Professional
Distributor of Halcyon & Santi in New Zealand
Director TechDive NZ
Education
BSc (Hons) (First Class) Management Science and Computing
ACMA (Chartered Institute of Management Accounting exams)
NZQ Level 6: Recreational Safety Auditing
Diving Qualifications
GUE: C2, T2, CCR
Instructor: T1, T2, R1, R2, R3, DPV, Doc Diver, Gas Blender, Fundamentals
Instructor Trainer: Fundamentals, R1, R2, R3
Diving Experience
Diving since 1988
3,000+ logged dives
500+ wreck dives
500+ cave dives
Community Involvement
Expedition leader for two years on a marine science project on a remote Pacific island. 1998 - 2000
Work with the BBC filming at White Island, New Zealand's most active marine volcano. 2008
Exploration of Blue Creek Resurgence 2010 - 2015
Deep Reef Exploration Project - Poor Knights Islands 2015 -
Additional Info

Willing to travel around NZ and Pacific (and further) to teach classes. Please contact me if interested.