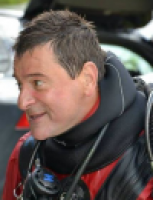 View Scheduled Classes
Classes I teach:
Discover Diving
Recreational Supervised Diver
Recreational Diver 1 - Nitrox
GUE Fundamentals
Doubles Diver
Drysuit Diver
Documentation Diver
Gas Blender
Domingos Cruz
Spain
Portugal
+351 22 9741968
+351 93 3362270
dcruz@gue.com
Professional
2005-present Co-owner of Submersus-Diving School
2007-present Co-owner of XpertDiver.com online diving store
1995-2014 Professor at Instituto Superior da Maia
1995-2000 Researcher at Instituto de Patologia e Imunologia Molecular do Porto
1988-1993 Researcher at Instituto de Engenharia e Sistemas de Computadores
Education
2000 - PhD in Medical Informatics, Faculty of Medicine of Oporto University, PT
1993 - MSc in Industrial Informatics, Faculty of Engineering of Oporto University, PT
1988 - Degree in Electrical and Computers Engineering, Faculty of Engineering of Oporto University, PT
Diving Qualifications
Recreational Instructor GUE
Fundamentals Instructor GUE
Documentation Diver Instructor GUE
Tech 2 Diver GUE
Cave 1 Diver GUE
CPR instructor EFR
MSDT PADI
AOWI SSI
Adv Trimix Diver TDI
Advanced Blender Instructor TDI
Normoxic Trimix Instructor TDI
Normoxic Trimix Instructor SSI
Repair Technician most major brands of regulators
Diving Experience
Diving since 1999
Diving Instructor since 2005
1400+ Dives
180+ Dives utilizing stage decompression techniques
180+ Dives utilizing specially mixed gases
200+ Dives utilizing Diver Propulsion Vehicles
Community Involvement
Domingos started his diving career in 1999. Since then has being diving always as posible in several places around the world, mainly cold water and open sea.
In 2005, Domingos founded Submersus-Diving School, being since then very involved in recreational and technical divers training
In 2014 co-founded the Project Baseline Matosinhos in Oporto area
Special interests
Decompression theory
Underwater video
Additional languages
Spanish, Portuguese and English
Additional Info

Domingos teaches mainly in Spain or Portugal.