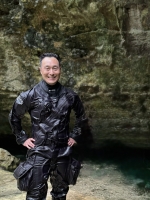 View Scheduled Classes
Classes I teach:
GUE Fundamentals
Doubles Diver
Drysuit Diver
Charles Han
Orange County, CA, United States
California, United States
9493716749
charles@roguedivers.com
Charles@gue.com
www.RogueDivers.com



Professional
Quality Systems and Regulatory Affairs Executive - Medical Device
Education
B.S. Bioengineering - University of California, San Diego
Diving Qualifications
GUE Fundamentals Instructor
GUE CCR 1, Cave 2 Diver
IANTD CCR ART Plus Diver: Fathom CCR, Hollis Prism 2
PADI IDC Staff Instructor (Inactive)
PADI Tec Deep Instructor (Inactive)
Diving Experience
1,500+ dives from lakes to the oceans, 4 - 34 degrees C, shallow reefs to deep wrecks all over Asia, Europe, and North America.
Community Involvement
Special interests
Tinkering (i.e. "fixing" then breaking then fixing again) anything mechanical
Travel (pre-requisite for dive professionals)
Sarcasm
Star Wars
Console Gaming
Languages I teach classes in
Additional languages
Basic comprehension: Mandarin Chinese, Japanese, Korean
Additional Info

GUE's structured approach to team diving, training, and standards are aligned with my personal and professional philosophies. I believe standardized training and performance requirements result in consistent and above average diver skill. Becoming a GUE instructor allows me to feel proud and confident in the students I have the privilege of working with.