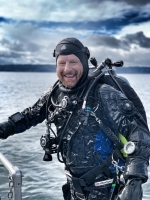 View Scheduled Classes
Classes I teach:
Discover Diving
Recreational Supervised Diver
Recreational Diver 1 - Nitrox
Recreational Diver 2 - Triox
GUE Fundamentals
Doubles Diver
Drysuit Diver
Triox Primer
Rescue Primer
Navigation Primer
James Fraser
Seattle, United States
253-722-3294
jdf@gue.com
james@jdfdiving.com


Professional
GUE Fundamentals Instructor
Director, Cyber Security – Leidos (Fortune 250 Defense Contractor).
Education
2015 B.S. University of Phoenix – Business Management
Diving Qualifications
GUE Instructor (Fundies, Primer (Doubles, Drysuit), Rec 1,2,)
GUE Technical 2 Diver
GUE DPV Diver
GUE Gas Blender
NAUI Open Water Instructor 2018
PADI Master Scuba Diver Trainer 1998
Diving Experience
Diving certified in 1992
Dive Instructor with other agencies since 1998
2000+ Dives
120+ Wreck dives
50 Trimix/Decompression dives
45 DPV dives
Multiple DAN courses
Human Factors Trained.
Community Involvement
GUE Seattle (GUE Affiliate) – Board of Directors
Publications
GUE InDepth - No Fault DCI? The Story of My Wife's PFO
GUE InDepth - Undergoing PFO Surgery as a Team: Deana & Bert's Excellent Adventure
Additional languages
Additional Info

I first started Diving in 1992 and became a PADI MSDT in 1998 and NAUI Scuba Instructor 2017. I have been diving in the Pacific Northwest for almost 30 years. I currently live in Seattle, WA, with my wife and dive teammate Deana Fraser. I love working at growing the local diving community and sharing my passion with all who are interested and am on the Board of Directors for GUE Seattle. I embraced GUE in 2018 after Deana had taken Fundamentals and it was humbling showing me there was still much more about diving I needed and wanted to learn. Since then I have completed Tech 1 and have a whole new world to explore