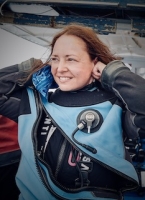 View Scheduled Classes
Classes I teach:
Discover Diving
Recreational Supervised Diver
Recreational Diver 1 - Nitrox
Recreational Diver 2 - Triox
GUE Fundamentals
Doubles Diver
Drysuit Diver
Triox Primer
Rescue Primer
Navigation Primer
Gas Blender
Christina Müller
Bavaria, Germany
Neufeldersee, Traunsee, Austria
+49 175 4694070
christina@gue.com
www.guetauchenlernenmitchristina.com

Professional
project manager technical development drive development
Education
MBA procurement management
Degree in electrical engineering
Diving Qualifications
GUE Cave Diver 1
GUE Technical Diver 2
GUE Photogrammetry Diver
GUE DPV Diver 1
Diving Experience
My diving career began in 2010.
I have been in the professional diving business since 2013, first as a divemaster, then as an instructor at another diving organization. There I specialized in the training of beginners.
At the same time, I can be found in technical diving, where I'm interested in cave diving in addition to wreck diving. I have been active at GUE since 2017 and have completed my Cave 1 and Tec 2. I love the wrecks in the Croatian Adriatic and Greece sea and the caves in Sardinia.
Community Involvement
Ghost Diving Germany
Project Baseline Murnersee - pbmurnersee.de
GUE Communities im Süden von Deutschland sowie Österreich und der Schweiz
Special interests
environmental protection & conservation
wrecks & caves
Additional languages
German
English
some Russian and Chinese
Additional Info

teach all classes in german, on request in english
teach Fundamentals classes with mono and double tanks