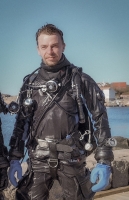 View Scheduled Classes
Classes I teach:
Discover Diving
Recreational Supervised Diver
Recreational Diver 1 - Nitrox
GUE Fundamentals
Doubles Diver
Drysuit Diver
Jesper Haav
Lysekil, Sweden
Lysekil, Sweden
+46702954565
jesperhaav@gue.com



Professional
Jesper is working a full time job as teacher on middle school in Lysekil. The subjects he is teaching is math and sience. Since 2016 Jesper have also been working part time on a dive center based in Lysekil.
Diving Qualifications
Diving Experience
Jesper does most of his diving in open water and enjoys the landscapes with cliffs, drop offs and wall.
Jesper started diving in 2009 and did his fundamentals on 2017. He became an GUE instructor in 2023.
Jesper is armed with a underwater camera and likes to take creative photos with a more technical approach to them with long exposures for example.
Community Involvement
Languages I teach classes in
Additional Info

Today Jesper is armed with a larger camera and are a firm believer in the power of community and the motivation to become a GUE instructor is to foster a network of proficient dive buddies, creating a safe and enjoyable environment for future expeditions, wherever they may lead.
He enjoys every dive to it's fullest no matter what depth or location.