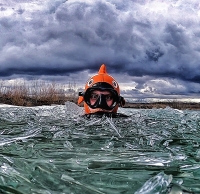 View Scheduled Classes
Classes I teach:
Discover Diving
Recreational Supervised Diver
Recreational Diver 1 - Nitrox
Recreational Diver 2 - Triox
Recreational Diver 3 - Trimix
GUE Fundamentals
Doubles Diver
Drysuit Diver
Triox Primer
Rescue Primer
Navigation Primer
Gas Blender
Technical Diver 1
Ron Fancher
Alaska, United States
907-770-1778
ron@gue.com
ron@divealaska.net
www.divealaska.net


Professional
Shop Manager at Dive Alaska (Anchorage, Alaska)
Drysuit Repair and Field Testing Technician
Education
B.S. in International Finance - Biola University (2013)
B.S. in Classical Literature - Biola University (2014)
Diving Qualifications
GUE Fundamentals Instructor
Freediving Instructor
PADI Master Scuba Diver Trainer
TecRec Gas Blending Instructor
Sidemount Instructor
DPV Instructor
Scooberman
Emergency First Response and Oxygen Provider Instructor
GUE Technical Diver 2
GUE Cave 2 Diver
Diving Experience
1,800+ dives
Extensive cold-water drysuit diving
Active diving and exploration throughout Alaska
Trimix and decompression diving
Traditional and backmounted DPV diving
Public safety diving
Cave diving and exploration
Cleanup and restoration project diving
Community Involvement
Member of the Alaska Dive Search, Rescue, and Recovery Team
Contributing member of Project Baseline: Smitty's Cove
Founding member of The Alaska "Just Go Diving" Club
Special interests
The National Football League and the Philadelphia Eagles
Running in fins
Vintage dive gear (and actually diving it)
Puffy vests
Swimming with Bruce
Travel
Additional languages
Additional Info

Just. Go. Diving.