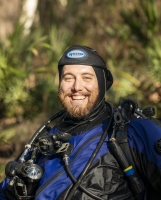 View Scheduled Classes
Classes I teach:
GUE Fundamentals
Doubles Diver
Drysuit Diver
DPV Diver 1
Max Philip Frenkel
South Florida, United States
603-276-8055
Max.Frenkel@GUE.com
Max@WetRocksDiving.Com

Professional
United States Senate - Office of Senator Jeanne Shaheen
Deloitte Management Consulting
Education
B.A. 2014 Cognitive Science, Dartmouth College
Diving Qualifications
Fundamentals Instructor GUE
Cave 2 GUE
Tech 1 GUE
Divemaster PADI
Overhead Sidemount PSAI
Full Cave NSS-CDS
Advanced Nitrox & Decompression Procedures TDI
First Aid, CPR, & AED Trained
Diving Experience
Caves, Reefs, Significant Wreck Penetration & Ocean Drift Deco Experience
1000+ Dives
Community Involvement
South East Underwater Explorers - Founding Board Member
Special interests
Cave Exploration & Survey
Shipwreck Discovery & Mapping
S. Florida Marine Animal Aggregations - Lemon Sharks, Goliath Groupers, Loggerhead Turtles
Languages
Additional Info

Interested in taking Fundamentals? Have questions about the class or GUE? Feel free to drop me a line on Facebook or at Max.Frenkel@GUE.com.

I'm more than happy to answer any questions you may have.