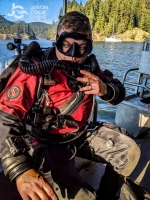 View Scheduled Classes
Classes I teach:
GUE Fundamentals
Doubles Diver
Drysuit Diver
Jason Cook
British Columbia, Canada
jc@gue.com

Professional
Music industry. Production/engineering.
Diving Qualifications
GUE Fundamentals
GUE Tech 1 & 2
GUE DPV 1
GUE Gas Blender
Various from other agencies
Diving Experience
For the past five years I've enjoyed the unique beauty that cold water diving on the west coast of Canada has to offer. From marine life to shipwrecks and even to caves, we have it all here. It's a joy to explore!
Community Involvement
GUE BC
Project Baseline Saanich Inlet
Special interests
Wreck diving, DPV diving, diving education, music production and engineering, running.
Languages
Additional Info

Please feel free to contact me at the email listed above. I'd love to help you reach your diving goals.