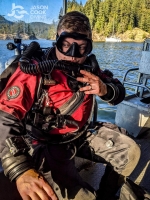 View Scheduled Classes
Classes I teach:
Discover Diving
Recreational Supervised Diver
Recreational Diver 1 - Nitrox
GUE Fundamentals
Doubles Diver
Drysuit Diver
DPV Diver 1
Jason Cook
British Columbia, Canada
jc@gue.com
jasoncookdiving.com

Professional
Music industry. Production and audio engineering.
Diving Qualifications
GUE CCR 2
Tech 2
Cave 1
DPV 1
Gas Blender
Various from other agencies
Diving Experience
1000+ dives primarily in the cold waters on the west coast of Canada.
Community Involvement
GUE BC - Board Member
Project Baseline Saanich Inlet
GUE Leading Edge Workshop 2022/23
Special interests
Wreck diving, DPV diving, diving education, music production and engineering
Publications
Foghorn - Journal of the Underwater Archeological Society of British Columbia
Additional languages
Additional Info

Please feel free to contact me at the email listed above. I'd love to help you reach your diving goals.