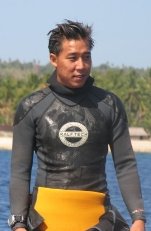 View Scheduled Classes
Classes I teach:
Discover Diving
Recreational Supervised Diver
Recreational Diver 1 - Nitrox
Recreational Diver 2 - Triox
GUE Fundamentals
Doubles Diver
Drysuit Diver
Triox Primer
Rescue Primer
Navigation Primer
DPV Diver 1
Documentation Diver
Leon Boey
Jakarta, Indonesia
Bali, Indonesia
+65 9641 6580 (WhatsApp)
leon@gue.com
leon@livingseas.asia
www.livingseas.asia
ask.livingseas.asia
singapore.livingseas.asia
bali.livingseas.asia
jakarta.livingseas.asia
www.facebook.com/livingseas.sg
instagram.com/livingseas.asia



Professional
Owner, Livingseas Asia, a premier dive education center based in Singapore, Bali and Jakarta
Serial Entrepreneur, having been involved with over 10 start-up companies in a range of different industries
Ex-Singapore National Waterpolo Squad member
Education
Bachelor of Computing, National University of Singapore
Diving Qualifications
Instructor: GUE Fundamentals, Rec 1 and 2, DPV, Documentation Diver
Instructor: Handicap Scuba Association Course Director
Instructor: PADI Specialty Instructor
Technical Training: GUE Tech 1 & 2
Cave Training: GUE Cave 1 & 2
Diving Experience
7000+ dives with experience diving wrecks, drysuit, mixed gases, DPV, caves
1000+ decompression dives
Community Involvement
Started Project Baseline Salang Beach in Tioman Island, Malaysia
Developed a marine conservation partnership with the Coral Triangle Center
Created a reef restoration project in Bali and Jakarta that all divers can participate in and plant corals
Special interests
Diver education
Dive travel
Technical diving
Marine conservation and ecological protection
Exploring wrecks and reefs in Southeast Asia
Publications
Articles on Ask Livingseas
Languages
Additional Info

Leon Boey is a GUE, HSA and PADI instructor based in Singapore, Bali, and Jakarta, running the dive education centre Livingseas Asia.

Diving since 2005, his first love has always been diving shipwrecks and remains so, but he's enjoyed all sorts of diving since and loves being surrounded by fish.

Having dived many places and seen firsthand the gradual degradation of the reef over time, he's started to take a more serious approach towards conservation.

Conservation has become one of the core values of Livingseas through the creation of multiple coral reef rehabilitation projects in Jakarta and Bali, along with a sustainable approach to dive operations and education.