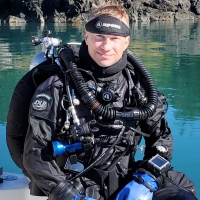 View Scheduled Classes
Classes I teach:
Discover Diving
Recreational Supervised Diver
Recreational Diver 1 - Nitrox
Recreational Diver 2 - Triox
GUE Fundamentals
Doubles Diver
Drysuit Diver
Triox Primer
Rescue Primer
Navigation Primer
DPV Diver 1
Cameron Miller
Alaska, United States
907 306 7009
cmiller@gue.com
cmiller-gue.com



Professional
2018-present: Line Crew Manager at Chugach Electric Association
2007-2018: Journeymen Linemen
2002-2007: Apprentice Linemen
1999-2003: Alaska Commercial Fishermen
Diving Qualifications
GUE Technical Diver 2
GUE Cave Diver 2
DPV Cave
CCR 1
CCR Cave
Diving Experience
3000+ Dives
Exclusively trained with GUE since 2005
Cold Water Diving
Technical Diving
Cave Diving
DPV Diving
Rebreather Diving
Community Involvement
Founding member of GUE Alaska.
Always at the dive site.
Special interests
Yoga
CrossFit
Cross Country Skiing
Additional Info

All my Alaska Divers, please do not hesitate to reach out with any thoughts or questions about starting or continuing your training with Global Underwater Explorers. Alaska has more coastline the the rest of the United States. We have a lot of exploring to do and I need your help.
If you don't see the course or a time the works for you, please contact me so we can find a solution.
GUE Alaska... that's what's good.