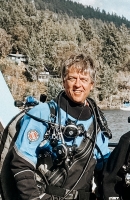 View Scheduled Classes
Classes I teach:
Discover Diving
Recreational Supervised Diver
Recreational Diver 1 - Nitrox
GUE Fundamentals
Doubles Diver
Drysuit Diver
Professional
Anesthesiologist and Intensivist at CHU de Québec - Université Laval
Professor of Anesthesiology and Critical Care at Université Laval, Quebec
Education
Faculté de médecine, Université Laval, Quebec, Canada
Université Paris-Est, Créteil, France
Diving Qualifications
GUE Tech 1
GUE CCR 1
GUE DPV 1
PADI OWD instructor
PADI Specialty Instructor (Wreck, Deep, Nitrox, DSMB, Dry Suit)
EFR instructor
Human Factors in Diving Level 2
Diving Experience
started diving in 2007, joined GUE in 2016
1000 + dives in various environments
800 + dives in cold water
100 Trimix dives
100 Decompression dives
Community Involvement
member of GUE Quebec
member of GUE Ontario
Special interests
Diving physiology
Crisis Ressources Management
Languages
Additional Info

I discovered GUE in 2016, and since then I never looked back. I was seduced by the thorough planning, the teamwork and the skills of GUE divers. Most of my diving is now done in Quebec and Ontario (Canada), where you can find a large number of beautiful wrecks in the Great Lakes and the St. Lawrence River. As a GUE instructor, my goals are to promote the values and principles of GUE and to help our local diving community grow. I also have a marked interest in diving physiology and in the management of critical events.

J'ai découvert GUE en 2016 et d'emblée j'ai été séduit par la planification rigoureuse, le travail d'équipe et les habiletés des plongeurs GUE. J'ai fait le cours Fondamental en 2017, suivi de Tech 1, puis CCR 1 en 2019. Je plonge surtout au Québec et en Ontario (Canada), où les épaves des Grands Lacs et du fleuve Saint-Laurent sont très nombreuses. J'ai décidé de devenir instructeur GUE pour partager ma passion, promouvoir les valeurs et les principes de GUE, et aider à faire croitre notre communauté locale. J'ai aussi un intérêt marqué pour la physiologie de la plongée et la prise en charge des événements critiques.