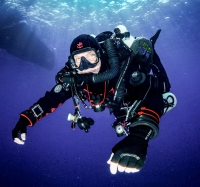 View Scheduled Classes
Classes I teach:
Discover Diving
Recreational Supervised Diver
Recreational Diver 1 - Nitrox
Recreational Diver 2 - Triox
Recreational Diver 3 - Trimix
GUE Fundamentals
Doubles Diver
Drysuit Diver
Triox Primer
Rescue Primer
Navigation Primer
DPV Diver 1
Gas Blender
Technical Diver 1
Francesco Cameli
United States
Italy
+18189196713
fra@gue.com


Professional
GUE Instructor
Award Winning Recording Engineer
Owner Sphere Studios Los Angels
Professional Musician
Education
Studied Electric Bass at Berklee College Of Music
Diving Qualifications
GUE Instructor
GUE CCR Diver
GUE Technical Diver 2
GUE Technical Diver 1
GUE Cave Diver 2
GUE Cave Diver 1
GUE DPV
GUE Gas Blender
Padi Divemaster
Naui Instructor
Diving Experience
1000+ Dives
200+ Trimix Dives
200+ Decompression Dives
100+ Wreck dives
200+ DPV Dives
Community Involvement
Active member of LAUE ( Los Angeles Underwater Explorers)
Ghost Fishing Los Angeles
Special interests
Sharks
Underwater Photography
Gas Blending
Making Records
Boating
Languages
English
Italian
French
Spanish
Additional Info

I'm usually locked away in a room with a multitude of different recording artists but, whenever I can I disappear under the waves where my alter being resides. There is where you are most likely to find me if you are reading this. There I will do my best to share with you my knowledge and passion to help you to better yourselves as divers.

Sink under the waves and Learn-Conserve-Explore.