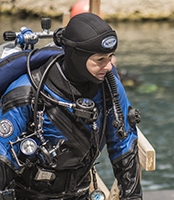 View Scheduled Classes
Classes I teach:
Discover Diving
Recreational Supervised Diver
Recreational Diver 1 - Nitrox
Recreational Diver 2 - Triox
Recreational Diver 3 - Trimix
GUE Fundamentals
Doubles Diver
Drysuit Diver
Triox Primer
Rescue Primer
Navigation Primer
DPV Diver 1
Documentation Diver
Gas Blender
Technical Diver 1
Recreational Dive Leader
Dorota I. Czerny
Dubai, United Arab Emirates
Poland
+971 557055790
dorota@gue.com


Professional
GUE Vice President, BOD and QA
GUE Foundational Administrator
GUE Instructor Trainer & Evaluator
GUE Rec and Tech Instructor
Deep Dive Dubai Operational Manager
Former
BtS Europe Sales Manager for Halcyon and DUI
Halcyon Europe Sales Support
Colona Divers Operational Manager
University of Silesia - Political Sciences PhD student and lecturer
Education
University of Silesia, Social Sciences Department, International Relations and Journalism, Katowice, Silesia, Poland (major in Political Sciences in the line of Journalism, 1997)
Diving Qualifications
GUE Tech + 2 Diver
GUE Cave 1 + 2 Diver
GUE DPV & Documentation Diver
GUE CCR Diver
Former PADI IDC Staff Instructor
Diving Experience
6000+ dives since 1996
Including:
exploration dives
ocean dives
cold-water dives
photo/video operation dives
wreck dives
DPV dives
cave dives
project dives
Community Involvement
Founder/supporter of various local GUE communities in Europe and the Middle East. Participant in several GUE projects & multiple events on a yearly basis (Tiger Project, Ghost Fishing, Med2015, Battle of Egadi, Lipari Project, demo days, conferences and shows). Organiser of GUE Creative Trips since 2013.
Special interests
Communication and languages, movement dynamics and global fitness, travelling, coaching and psychology
Publications
Fundamentals of Better Diving (2nd edition - co-author and editor)
Better Diving through Fitness and Precision series on GUEtv
GUE YouTube channel contributor
Author of publications in various magazines (Quest, Nurkowanie, Wielki Blekit)
Languages
Additional Info

I am interested in refining foundational skills - trim, buoyancy and propulsion techniques based on my experiences in fitness, movement and body mechanics training. Committed to instructor training development and coaching.