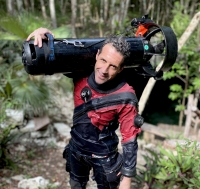 View Scheduled Classes
Classes I teach:
GUE Fundamentals
Doubles Diver
Drysuit Diver
Mauro Bordignon
Puerto Aventuras, Mexico
Romano d'Ezzelino, Vicenza, Italy
+521 984 1405358
info@maurocaveworld.com
www.maurocaveworld.com



Professional
Mauro started diving in 1997 and became a dive professional in 2002 when he moved to the Egyptian Red Sea and started working as a guide/instructor in liveaboard vessels.
In 2007 he moved to Mexico driven by his passion for cave diving and here he became a cave instructor in 2010. His time is currently divided between sharing his passion and training new Cave Divers, exploring the endless caves of the Yucatan peninsula, and providing lighting for world renowned photographers.
Mauro is involved in Cave and Mines exploration projects in Mexico, the US, Europe and Africa.
Education
Degree in American and English Literature at Ca'Foscari University in Venice, Italy.
Diving Qualifications
Tdi Instructor for Full Cave, Sidemount Cave Diver, Stage Cave Diver and DPV Cave Diver.
CCR diver for Hammerhead, X-CCR, JJ-CCR and Kiss Sidewinder CCR.
GUE Cave 2 and Tec 1 diver
Diving Experience
Mauro has a wide open water experience in the Mediterranean and Red Sea. He is a passionate cave explorer since 15 years and currently explores in Mexico and Europe.
Special interests
Crossfit, hiking and caving
Publications
Nohoch Pek: Adventures in Exploration, Quest, Vol.17, No. 3
Cenote Cangrejo, A.M.C.S. (Association for Mexican Cave Studies) No. 41
Sistema Murena, A.M.C.S. No. 37
Additional languages
Italian, English and Spanish