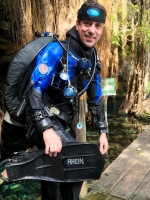 View Scheduled Classes
Classes I teach:
Discover Diving
Recreational Supervised Diver
Recreational Diver 1 - Nitrox
Recreational Diver 2 - Triox
Recreational Diver 3 - Trimix
GUE Fundamentals
Doubles Diver
Drysuit Diver
Navigation Primer
Triox Primer
Rescue Primer
DPV Diver 1
Sergio Rhein Schirato
Sao Paulo, Brazil
Miami, United States
sergio.schirato@gue.com



Professional
Managing director of Daemon Investimentos
Researcher at the laboratory of energetics and theoretical physiology of the Biosciences Institute of the University of Sao Paulo
More than 20 years of experience in investment banking, F/X and derivatives trading
Active scuba dive instrutor since 1998
Education
BS in Business Administration, Pontifícia Universidade Católica, Sao Paulo - Brazil
Graduate in Finance, Instituto Brasileiro de Mercado de Capitais - "IBMEC" (currently Insper)
MBA jointly granted by New York University - Leonard Stern School of Business, London School of Economics and Political Sciences and HEC Paris
Latu Senso post-graduate in Applied Math
PhD, University of Sao Paulo (USP)
Diving Qualifications
Scubar diver since 1988
More than 3.000 dives
GUE Fundamentals Instructor
GUE Tech
GUE DPV
GUE Rebreather Diver
PADI Open Water Instructor
NSS Full Cave Diver
DAN BLS and Advanced Oxygen First Aid Instructor
Publications
Heart rate variability changes as an indicator of decompression related physiological stress, UHM 2018, VOL. 45, NO. 2
Decompression: Revisiting old assumptions, Quest Magazine, VOL. 20, 2019
Association Between Heart Rate Variability and Decompression-Induced Physiological Stress, Front. Physiol., 11:743.
Languages