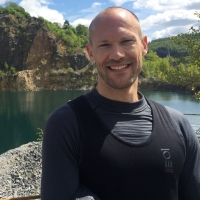 View Scheduled Classes
Classes I teach:
Discover Diving
Recreational Supervised Diver
Recreational Diver 1 - Nitrox
Recreational Diver 2 - Triox
Recreational Diver 3 - Trimix
GUE Fundamentals
Doubles Diver
Drysuit Diver
Triox Primer
Rescue Primer
Navigation Primer
BLS-D & Oxygen First Aid
Sebastian von Koss
Düsseldorf, Germany
Austria
+49 175 8639764
svk@gue.com
www.sebastianvonkoss.de/



Professional
GUE Fundamentals Instructor
GUE Rec 1 Instructor
GUE Rec 2 Instructor
GUE Rec 3 Instructor
GUE / DAN BLS-D & Oxygen First Aid Instructor
Education
Master of Business Administration, Universität Frankfurt and UCLA
Diving Qualifications
GUE Cave 2 Diver
GUE Tech 2 Diver
GUE CCR 1 Diver
GUE DPV 1 Diver
Gasblender
Diving Experience
Diving since 2009
> 1900 dives, including...
> 170 cave dives
> 160 dives using staged decompression
> 250 shark dives
Community Involvement
Cave Science Project in Mexiko
Phreatic Cave Project (Map the Gulf) in Sardinia
Special interests
Fitness
Underwater video
Cave diving
Wreck diving
Diving with sharks
Languages
Additional Info

I live in Düsseldorf, Germany, but I am happy to teach at different locations. Please contact me to discuss.

Ich lebe derzeit in Düsseldorf, bin aber gerne bereit, für Kurse zu reisen. Du hast eine Wunschlocation oder einen Wunschtermin? Melde Dich bei mir und ich bin sicher, dass ich Dir helfen kann.