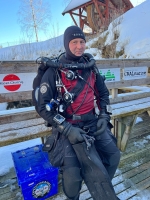 View Scheduled Classes
Classes I teach:
Recreational Diver 3 - Trimix
GUE Fundamentals
Doubles Diver
Drysuit Diver
Triox Primer
DPV Diver 1
Per Normark
Sweden
Ukraine
+46705609139
per@gue.com
dykplattformen.se

Professional
Per has worked with international war and peace issues for thirty years but is now focussing his attention on scuba diving. He started diving in 1993 but work and family took him to non-diving countries until he returned to the Balkans in 2006 and resumed diving. He ventured into technical diving for his passion of wrecks and did his Tech 1 in 2015. He did Cave 1 in 2016.
Diving Qualifications
C2/T2
DPV Cave
CCR1, CCR Cave and MOD3
Diving Experience
Per does most types of diving, but prefers wrecks and caves.
Per became a GUE instructor in 2016 and is teaching Fundamentals, Rec3 (recreational trimix), dry suit and DPV1. Per is also managing "Dykplattformen", a virtual hub for divers who are seeking new adventures or additional training or experiences. Per has a passion for travelling, diving and exploration and he loves organising trips to dive locations off the beaten track.
Per is one of the driving forces behind GUE Sweden's environmental protection projects, Rena Botten and Operation Spöknät.
When he is not teaching or managing projects, he is wreck, cave and mine diving in countries like Bosnia, Croatia, Finland, France, Italy, Hungary, Norway, Sweden to mention a few.
Community Involvement
Special interests
Apart from diving, good wine and food, travel.
Additional languages
English, Swedish or Russian for teaching but also French.
Additional Info

Love sharing my experiences and teaching. Ready to travel anywhere to dive and teach.