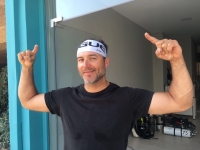 View Scheduled Classes
Classes I teach:
Discover Diving
Recreational Supervised Diver
Recreational Diver 1 - Nitrox
GUE Fundamentals
Doubles Diver
Drysuit Diver
Nikos Vardakas
Athens, Greece
Cyprus
+30 6976103254
nikos@gue.com
nikos@scubalife.gr
www.scubalife.gr



Professional
Owner & Manager, Scubalife Dive Center, 2018-present
Scuba Instructor, 2002-present
Education
BA in Acting, Agia Varvara School of Drama, 2013
BTEC HND Business & Management, University of Sunderland, UK, 2001-2003
Diving Qualifications
GUE Recreational 1/Fundamentals Instructor
SSI Hypoxic Trimix Instructor
SSI Trimix Blender Instructor
CMAS** Open Water Instructor
GUE CCR 1 Diver
GUE Technical 2 Diver
CMAS Scientific Diver
Diving Experience
4000+ Dives
400+ Mixed gas dives
300+ Decompression dives
300+ Wreck dives
Community Involvement
Representative of GUE Greece
Ghost Diving Greece Coordinator
Project Manager, Project Baseline: Saronic Gulf
Diver, 100 Years of Kea's Shipwrecks Centennal Event, Kea Island, Sep 2016
Exploration Diver, Cyclades Dive Project, Serifos & Milos Island, May 2016
Exploration Diver, Lemnos Dive Project, Sep 2015
Exploration Diver, HMT Marquette Project, Thermaikos Gulf, Oct 2008
Exploration Diver, DIR In Effect Project - Beirut, Lebanon, Oct 2004
SKAI Broadcast television interviews
Special interests
Publications
"A Unique Liveaboard Opportunity for GUE Divers in Greece", Quest, Vol.14, No.2
Languages
Additional Info

He is a passionate and dedicated diver, explorer and educator. With zest and enthusiasm, his purpose is to offer quality scuba diving training and experience levels.

Nikos started diving in 1999 and has been actively teaching since 2002 for numerous diving organizations. He is currently an active Hypoxic Trimix instructor with [SSI] and a Fundamentals instructor for GUE.

In 2002, on a quest to improve his skills and know-how, he came across the DIR (Doing It Right) philosophy, developed by GUE, adopting the principles that helped him develop a strong diving practice which continues to this day.

In 2003, he completed formal training in one of the first GUE classes ever held in the UK. He continues his GUE training with a Tech 1 class in Beirut in 2004 and a Cave 1 class in Florida in 2005.

He is also the GUE representative in Greece and, in 2009, was the first Greek to be certified as a GUE instructor. He hopes to pass on his knowledge to the Greek diving community.

In 2010 he created the GUE Greece dive community to promote news, events and projects that take place in Greece and worldwide.

Besides continuous training, Nikos has also been involved in numerous shipwreck exploration projects in Greece, Lebanon, Egypt, Cyprus, Italy and England.

2012 was the year that the concept of Scubalife was first developed. Scuba Diving as a way of life. Collaborating with Mythical Adventures, Nikos ran liveaboard trips in the Aegean using a traditional Greek wooden boat as the divebase. For more than three years, we offered tailor-made liveaboard trips in the western Cyclades as well as hosting diving courses onboard "ENA" introducing our clients to the underwater and above water beauty of the Aegean.

In 2018 he founded Scubalife Dive Centre with a vision to offer divers the opportunity to expand their diving frontiers and promote Greece as one of the best diving destinations in the Mediterranean.