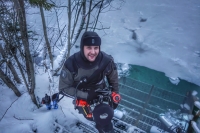 View Scheduled Classes
Classes I teach:
Discover Diving
Recreational Supervised Diver
Recreational Diver 1 - Nitrox
GUE Fundamentals
Doubles Diver
Drysuit Diver
Michael Thornton
Utah, United States
Florida, United States
+1 (801)-572-5111
+1 (801)-647-6306
michael@diveaddicts.com
michael@sub-gravity.com
michael@tekdiveusa.com
www.DiveAddicts.com
www.Sub-Gravity.com
www.CCRExplorers.com
www.TEKDiveUSA.com




Professional
SubGravity - VP Production - 2014-Present
Dive Addicts - Instructor Trainer - 2002-Present
TEKDiveUSA - Co-Founder - 2014-Present
Amphibious Zoo Music - President - 2005-Present
Education
BA in Music from Brigham Young University
Diving Qualifications
GUE Fundamentals Instructor
TDI Advanced Mix Gas CCR Instructor Trainer
TDI Rebreather Cave Instructor
TDI Full Cave Instructor
IANTD Advanced SideMount CCR Cave Instructor
FII Freediving
Diving Experience
1998 - learned to dive at age 10
2003 -Certified Full Cave at age 15.
2007 - Instructor (SDI/TDI)
2009 - CCR Instructor (TDI/IANTD)
2012 - Cave Instructor (TDI/IANTD)
2013 - Instructor Trainer (SDI/TDI)
2013 - Freediving Instructor (FII)
2019 - Fundamentals Instructor (GUE)
Instructor on 8 models of CCRs
Diver Certified on 12 models of CCRs
Community Involvement
Co-founder of TEKDiveUSA the North American advanced and technical diving conference
Special interests
Music, Trombone, Skiing, Backpacking, Alpine Caving
Additional languages
Additional Info

Michael along with his brother, sister and father launched SubGravity in 2014. SubGravity, a technical manufacturer and distributor, emerged out of a desire to safely explore and experience the underwater world in some of the most extreme and demanding environments imaginable.

The same year they founded TEKDiveUSA the biennial North American advanced and technical diving conference inspiring and bringing together divers.

Michael has been involved with his family owned dive retail and training facility Dive Addicts since it was founded in 2002.