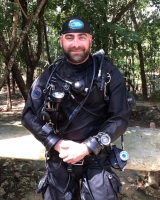 View Scheduled Classes
Classes I teach:
GUE Fundamentals
Doubles Diver
Drysuit Diver
Nick Bowman
British Columbia , Canada
+1(604)345 6216
bowman@gue.com


Professional
GUE Fundamentals Instructor
Red Seal-Mobile Crane Operator Hydraulic Lattice Boom
Blue Seal-Mobile Crane Operator Hydraulic Unlimited Tonnage
Blue Seal-Tower Crane Operator
Education
Secondary School
Vocational Trade Training
Diving Qualifications
GUE Fundamentals Instructor
GUE Tech 2
GUE Cave 1
GUE DPV 1
GUE Gas Blender
IANTD Tek Lite Cave Diver
IANTD Side Mount
PADI AOW
Diving Experience
1000 + Dives
200 + Technical Dives
100 + Cave Dives
100 + DPV Dives
Community Involvement
Former Vice President GUE-B.C.
Project Baseline: Saanich Inlet, Britannia Beach, Halkett Bay
Ongoing mentorship and instruction of divers in the PNW
Special interests
Diving exploration, citizen science, diving physiology and decompression science, personal fitness (weight training/swimming/cycling), snowboarding, sailing, free diving, overland 4x4 adventuring.
Additional languages
English
Limited French and Spanish
Additional Info

I have been fascinated with the aquatic realm since I was a young child. My Father was a diver and I grew up reading The Ocean World of Jacques Cousteau. Since my first scuba diving experience on the Great Barrier Reef, I have been actively diving in Canada, USA, Mexico, Australia, and Egypt. I am honoured to become a GUE Instructor and share my passion for diving and protecting our precious aquatic resources. The global GUE community has given me so much and I look forward to reciprocating that gift through continued mentorship and instruction of new and experienced divers in the PNW and beyond. Thank you for your continued support, I look forward to seeing you in the water!