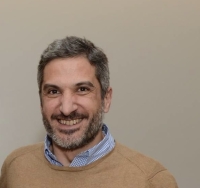 View Scheduled Classes
Classes I teach:
Discover Diving
Recreational Supervised Diver
Recreational Diver 1 - Nitrox
Recreational Diver 2 - Triox
Recreational Diver 3 - Trimix
GUE Fundamentals
Doubles Diver
Drysuit Diver
Triox Primer
Rescue Primer
Navigation Primer
DPV Diver 1
Documentation Diver
Gas Blender
Cave Diver 1
Triox Cave Upgrade
Technical Diver 1
Recreational Dive Leader
Ricardo Constantino
Spain
Brazil
+34--695.039.305
ricardo@gue.com
ricardo@entrada.tv
www.ENTRADA.tv
www.SPE.pt



Professional
Full time GUE Instructor, 2016 - present
Product Manager, Invenco New Zealand, 2015-2016
R&D Manager, Petrotec, 2000 – 2015
Board Member, Petrotec Payment Systems, 2005 - present
Account Manager, EDS, 1996 - 2000
Development Engineer, Thomson-CSF (Paris), 1993 - 1996
Education
BSc Electronics Engineering, South Africa, 1991
MBA International Management, Paris, 1995
Diving Qualifications
GUE CCR Diver
GUE RB80 Rebreather Diver
GUE Tech 2+ Diver
GUE Cave 2 Diver
GUE DPV2 Diver (cave)
GUE Documentation Diver
GUE Cave Survey
GUE Instructor : Fundamentals, Rec1, Rec2, Rec3, DPV1, Documentation, Cave1, Tech1
Diving Experience
750+ logged dives
250+ mixed gas dives
250+ cave dives
150+ cave dives using stage diving techniques
50+ cave dives using Diver Propulsion Vehicles
85+ hours RB80
Cave Passage Explored and Surveyed - +1000m
Cave diving experience in Portugal, Spain, France (Lot and Ardèche), Mexico, Florida, Sardinia, Mallorca and Russia.
Community Involvement
Founding Member – ENTRADA (www.ENTRADA.tv), a GUE affiliated dive team.
Member and officer of SPE, the Portuguese Speleological Society (www.SPE.pt).
Project Manager and Exploration Diver for Alviela project (www.Alviela.com).
Exploration Diver for Deepreefs Project (www.Deepreefs.com).
Special interests
Team and community building
Production of Cave Maps
Exploration
Contributing to Scientific Research and Conservation projects
Publications
Speaker at Barcelona Deco Congress, 2016
Speaker at Global Diving Conference 2013, Portimão.
Speaker at Barcelona-Tek (Barcelona) 2013.
Speaker at Lusotek (Portugal) 2011, 2013.
Speaker at Exposub (Portugal) 2006, 2008, 2010, 2012.
GUE Quest Magazine 16.1, "Sardinia 2014: A GUE Project Focused on Scientific Goals"
GUE Quest Magazine 16.1 "Sardinia 2014: A GUE Project Focused on Scientific Goals"
GUE Quest Magazine 12.4, "DeepReefs: GUE Divers Serving Marine Science"
GUE Quest Magazine 11.2, "GUE Divers Going Dry"
GUE Quest Magazine 10.2, "Alviela: A Team-Building Project"
GUE Quest Magazine 9.3, "Building a DIR Community"
GUE Quest Magazine 9.1, "Caves of Portugal and Spain"
Planeta d'Água Magazine, "Grutas de Florida"
Planeta d'Agua Magazine, "GUE Tech-1"
Languages
Portuguese
English
Spanish
French
Afrikaans
Additional Info

Halcyon Regulator Service Technician
Skippers License
Can travel for Projects and classes

By believing passionately in something that does not yet exist, we create it.
- Nikos Kazantzakis