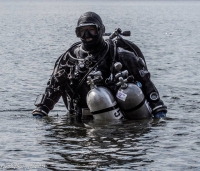 View Scheduled Classes
Classes I teach:
Discover Diving
Recreational Supervised Diver
Recreational Diver 1 - Nitrox
Recreational Diver 2 - Triox
Recreational Diver 3 - Trimix
GUE Fundamentals
Doubles Diver
Drysuit Diver
Triox Primer
Rescue Primer
Navigation Primer
Professional
Westview Ford Sales, Internet & Marketing Manager
Comox Valley Record, Advertising
Cook Roberts LLP, Legal Assistant
Education
Limited 60 Ton Masters, Camosun College Nautical Faculty
Small Vessel Operator Proficiency Certification, Camosun College Nautical Faculty
Diving Qualifications
GUE Fundamentals Instructor
GUE Rec 1, 2 & 3 Instructor
GUE Doubles Instructor
GUE Dry Suit Instructor
GUE CCR (JJ)
GUE Tech 2
PADI Master Scuba Diver Trainer
PADI Specialty Instructor (Wreck, Night, Search & Recovery, Nitrox, Drift, Dry Suit)
TDI Advanced CCR Trimix (Megalodon)
TDI Advanced Wreck
TDI Advanced Nitrox Instructor
TDI Decompression Procedures Instructor
Diving Experience
Certified to dive in 2007
3,000+ dives in cold water
Diving experience in the Pacific Northwest and Atlantic Canada
Community Involvement
GUE-BC President
Actively involved with GUE-BC mentoring divers in our area
Crew & support for Sea Dragon Dive Charters
Project Baseline
Vancouver Aquarium
Underwater Archeological Society of British Columbia
Canadian Forces scuba training and mentoring
Aboriginal YOUTH First Summer Camp Scuba Program
Pearson College Spring Break Scuba Program
Special interests
Wreck diving
Technical diving
Passionate about sharing the underwater world with new divers
Conservation and ocean clean up
Grew up riding horses competitively in the hunter jumper circuit in North America and New Zealand
Mountain Biking
Backcountry Skiing
Rock Climbing
Publications
Black Press Publications, Advertising
Languages
Additional Info

Liz started diving in 2007. Her father was a commercial diver and would tell her stories about diving. Liz was intrigued and wanted to experience scuba diving for herself. Finally, for her 21st birthday, he dad bought her scuba lessons. Scuba diving was everything Liz imagined it to be and more. From the first time she laid eyes on a shipwreck underwater, she knew that underwater was where she wanted to be and she wanted to share it with others. Less than a year later, Liz had logged over 400 dives, earned her PADI Open Water Scuba Instructor rating and never looked back.

Today, Liz is a GUE Tech 2 diver and is certified on two different types of Closed Circuit Rebreathers. She has dove along the east and west coasts of Canada and the United States. On average, she logs between 300-400 dives per year. Liz strives to pass this experience on to her students so new and experienced divers can benefit from the experience she has accumulated over more than 3,000 dives.

Although Liz is a passionate technical diver and loves to explore deep shipwrecks; the most rewarding experience for Liz is watching a student light up when they go underwater for the first time. Liz's goal as an instructor is to provide students, new and experienced, with first class training to safely and confidently explore the underwater world and share her passion for scuba diving. Diving is supposed to be simple and stress free and Liz wants to give this to her students right from the very beginning of their first scuba diving experience.