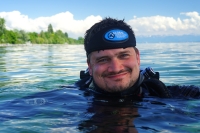 View Scheduled Classes
Classes I teach:
Discover Diving
Recreational Supervised Diver
Recreational Diver 1 - Nitrox
GUE Fundamentals
Doubles Diver
Drysuit Diver
BLS-D & Oxygen First Aid
Oliver Reimer
Baden-Württemberg, Germany
Switzerland, Austria
+491759047351
oliver@gue.com
www.oliverreimer.eu




Professional
Project manager and technical sales manager in force sensor industry
Education
PhD in Physics (Dr. rer. nat.)
M.Sc. in nanophysics
Diving Qualifications
GUE Fundamentals/ Rec1/ BLSD-oxygen provider instructor
GUE Tech 1
GUE Cave 2
CMAS/ VDST TL 1 + Nitrox + GasBlender
Diving Experience
Diving since 2000
1100+ dives (warm and cold water diving in Skandinavia, Australia, Middle Europe, Red Sea, Mexico) including wreck/trimix/cave/ice/reef diving
Community Involvement
Special interests
Cave Diving
Sharing the passion of diving
Plenty of outdoor sports
Languages I teach classes in
Additional Info

Oliver started diving at the age of 12. Since then he continiously developed his skills and started to share his passion with beginners as a recreational SCUBA Trainer at the age of 21. With 25 he became an active diving instructor and got highly motivated by the glance of fascination in the eyes of dive beginners. Once he came in contact with GUE, his own understanding and fascination of SCUBA diving made a quantum jump and finally led him to the decision to became a GUE instructor after 21 years of diving.

Besides of being underwater, Oliver loves the touch of nature and regularly conduct different outdoor sports including: mountaineering, hiking, via ferrata, mountain biking and skiing.