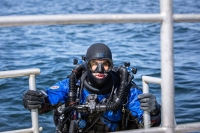 View Scheduled Classes
Classes I teach:
Discover Diving
Recreational Supervised Diver
Recreational Diver 1 - Nitrox
Recreational Diver 2 - Triox
Recreational Diver 3 - Trimix
GUE Fundamentals
Doubles Diver
Drysuit Diver
Triox Primer
Rescue Primer
Navigation Primer
Gas Blender
Technical Diver 1
Alex Adolfi
Seattle WA, United States
British Columbia, Canada
206.419.1837
aa@gue.com
www.aa-gue.com



Professional
GUE Tech 1 Instructor
Partner - Eight - A Seattle Diving Co.
Partner and Project Manager – Carlisle Classic Homes - Seattle
Education
2003 B.S. University of Washington – Construction Management
Diving Qualifications
GUE Instructor (Tech 1, Fundies, Primer, Doubles, Drysuit, Rec 1,2,3)
GUE Gas Blender Instructor
GUE Technical 2 Diver
GUE CCR Diver
GUE Cave 1 Diver
PADI Master Scuba Diver Trainer
Emergency First Response Instructor
Diving Experience
~1,500 Dives
100+ Wreck dives
100+ Trimix dives
100+ Decompression dives
150+ DPV dives
2018 Mars Field Study VI
Community Involvement
GUE Seattle (GUE Affiliate) – Educational Advisor
Pacific Northwest Project Baseline
Special interests
Ship wreck exploration and documentation
Photography – above and below the water
Fill station design and construction
Building science
Additional languages
Additional Info

My first breath on a regulator was in a swimming pool at the age of 12 and I knew instantly that diving would be a passion for life. I was certified in 2004 and have logged an average of 100 dives a year since that time. It is a rare day that you will find my equipment fully dry. I have always enjoyed sharing my passions with others through teaching, first as a snowboard instructor in college and then as a scuba instructor starting in 2009. I joined the GUE family in 2012 and found and instant bond with many members and have been deeply involved with the Pacific NW GUE community ever since.

Favorite Quotes

"Under pressure, you don't rise to the occasion, you sink to the level of your training" -Anonymous Navy Seal

"I have never let my schooling interfere with my education" – Mark Twain

The purpose of life should not be to journey to the grave with the intention of arriving safely in a pretty and well preserved body, but rather to skid in broadside, thoroughly used up, totally worn out, and loudly proclaiming "Holy S#it!!!" What a Ride!!!