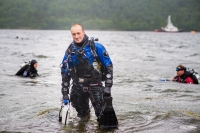 View Scheduled Classes
Classes I teach:
Discover Diving
Recreational Supervised Diver
Recreational Diver 1 - Nitrox
Recreational Diver 3 - Trimix
GUE Fundamentals
Doubles Diver
Drysuit Diver
Triox Primer
DPV Diver 1
Marcus Rose
Scotland, United Kingdom
England, United Kingdom
+44 (0) 7825 134235
marcusrose@gue.com
marcus@wreckandcave.co.uk
www.wreckandcave.co.uk

Professional
Work at Wreck and Cave, under GUE Board of Directors member Richard Walker.
Education
BEng(Hons) (2004) Electrical Engineering.
Diving Qualifications
GUE Tech 2, Cave 2, CCR
GUE Rec 1, 3, Fundamentals and DPV Instructor
PADI Divemaster
Diving Experience
Diving since 1997
1500+ total dives, mixture of recreational, technical, cave and under ice
Community Involvement
GUE's Community Development Supervisor
Project Diver - LST project, Lyme Bay, Dorset, UK.
Project Manager for Project Baseline Portland Harbour and Project Baseline Loch Long.
Project Diver for Project Baseline Sardinia.
Ghost Fishing UK Training Officer.
Project Baseline Sardinia project diver.
Project Baseline UK Regional Coordinator.
Special interests
I have a passion for project diving, especially with a focus on marine conservation efforts. Through Project Baseline Loch Long collaborations have been formed with Seasearch Scotland, Ghost Fishing UK and Dive for Antibiotics. These collaborations add purpose to a dive and provide a sense of achievement when scientific and conservation goals are achieved.
Publications
Quest Vol 16, No4 - Portland Harbour Wreck Project.
Quest Vol 18, No1 - Becoming a GUE Instructor.
Quest Vol 19, No2 - Exploring Scotland.
InDepth article on Dive for Antibiotics project - https://gue.com/blog/data-diving-for-antibiotics/
Languages