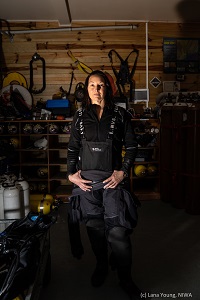 View Scheduled Classes
Classes I teach:
GUE Fundamentals
Doubles Diver
Drysuit Diver
Professional
Marine Biologist with the National Institute for Water and Atmospheric Research NZ (NIWA)
NIWA Diving Safety Officer
NIWA Marine Biodiversity Group Manager
Education
PhD Biological Sciences (2004), University of Auckland
Diving Qualifications
GUE: T1, Fundamentals, Gas Blender
ADAS Part 1 R
Worksafe New Zealand Occupational Diver
NIWA Scientific Diver
Instructor: GUE Fundamentals
NIWA Scientific Dive Instructor
PADI Open water, Specialty (Dry suit, DPV) and EFR
DAN Oxygen and First Aid Instructor
Diving Experience
1000+ logged dives
DPV
Mixed gas
Occupational/Scientific
Community Involvement
I designed and led the data collection of a Project Baseline project in New Zealand which investigated the effects of marine debris on the health of marine benthic communities in a marina in Wellington.
I was extensively involved with Ghost Fishing NZ for 3 years. Ghost Fishing NZ was a GUE-focused clean-up team which promoted GUE diving practices and philosophies in their work. During this time I played a significant role in large scale clean up efforts around Wellington and New Zealand, removing hundreds of tonnes of rubbish from the marine environment. I delivered a TED talk on the importance of removing rubbish from the environment and the initiatives to achieve long-term clean up efforts in New Zealand.
Special interests
I love being in the water so when the swell rolls in (and I cant dive) I'll be out surfing. And if I'm not in the water I'll probably be out for a ride on my motorbike! Have a wee addiction for superbikes, having just owned an Aprilia RSV4RR and now a Honda CBR1000RR.
Additional languages
Additional Info

I'm based in Wellington