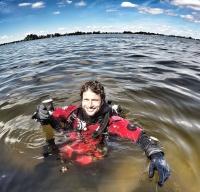 View Scheduled Classes
Classes I teach:
Discover Diving
Recreational Supervised Diver
Recreational Diver 1 - Nitrox
Recreational Diver 2 - Triox
Recreational Diver 3 - Trimix
GUE Fundamentals
Doubles Diver
Drysuit Diver
Rescue Primer
Triox Primer
Navigation Primer
DPV Diver 1
Gas Blender
Technical Diver 1
Sander Evering
Utrecht, Netherlands
Belgium
+31 6 4856 0245
+31 6 4856 0245
sander@divesolutions.nl
sander@gue.com
www.divesolutions.nl


Professional
Full time GUE instructor at 'Dive Solutions'.
Education
Teacher in physical education.
Diving Qualifications
GUE Instructor: Rec 1, Rec 2, Rec 3, Fundamentals, DPV1, Gasblender, Primers and Tech 1
PADI Instructor
IANTD Instructor
Cave diver
Diving Experience
Sander is diving since 2001 all over the world, cold and warm, cave, technical and open water.
Publications
Freelance author for Dutch magazine 'Duiken'.
Languages