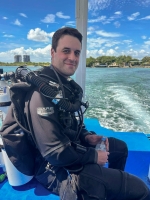 View Scheduled Classes
Classes I teach:
Recreational Diver 2 - Triox
Recreational Diver 3 - Trimix
GUE Fundamentals
Doubles Diver
Drysuit Diver
Triox Primer
Rescue Primer
Navigation Primer
DPV Diver 1
Photogrammetry Diver
Gas Blender
Technical Diver 1
Kees Beemster Leverenz
Seattle, Washington, United States
(206) 331-0526
Kees@GUE.com
www.keesbl.com
www.sketchfab.com/kees.bl



Professional
Incident Communications and Coordination for Microsoft Office 365
Education
University of Washington, B.S. Earth and Space Sciences (Geology), 2012
Diving Qualifications
GUE Instructor
GUE Tech 3
GUE Cave 2, Cave DPV, and Cave CCR
GUE CCR 2
Diving Experience
1,800+ dives with hundreds of technical, cave, CCR, and DPV dives.
Community Involvement
Mars Makalös Exploration Project (Sweden) 2018 and 2019
Project Recover Expedition (Portugal, Croatia, and Italy) 2019
Red Sea Exploration Project (Egypt) 2019 and 2020
Wreck Photogrammetry (USA) 2016-present
M/S Estonia Photogrammetry (Baltic Sea) 2022
Battle of the Convoys (Italy) 2022
Special interests
Underwater photography, videography, and photogrammetry
Publications
Coauthor of GUE Photogrammetry Diver
Contributing author for GUE Navigation Primer
Contributing editor for GUE Technical Diver 1 and Technical Diver 2 materials
Quest volume 18.1 - An Introduction to Underwater Photogrammetry
Quest volume 18.4 - Staying Warm in the Cold
Quest volume 19.3 - Photogrammetry: Photography for Engineers
Quest volume 20.1 - The PBM Mariner Project
Quest volume 22.3 - If the Fins Fit, Wear 'Em!
GUE InDepth Blog - Adventures in Picture Making - Photogrammetry and Lighting
GUE InDepth Blog - The Life & Times of a West Coast Photogrammetrist: Could it be the Almirante Barroso?
Languages I teach classes in