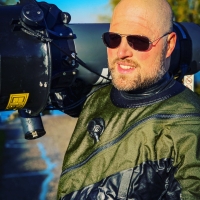 View Scheduled Classes
Classes I teach:
Discover Diving
Recreational Supervised Diver
Recreational Diver 1 - Nitrox
Recreational Diver 2 - Triox
Recreational Diver 3 - Trimix
GUE Fundamentals
Doubles Diver
Drysuit Diver
Navigation Primer
Rescue Primer
Triox Primer
DPV Diver 1
Gas Blender
Professional
Researcher at the Institute of Biology II, RWTH Aachen University
Scuba Diving Instructor
Kettlebell Instructor
Education
PhD (Dr. rer. nat) in Biology
Diving Qualifications
GUE Rec1, Rec2, Rec3, DPV, all Primers and Fundamentals Instructor
VDST/CMAS TL**+Nitrox Instructor
GUE Cave 2
GUE Tech 1
Diving Experience
Diving since 1998
2000+ dives (mainly cold water)
800+ mixed gas dives
50+ Cave Dives
Community Involvement
Project Manager of Project Baseline Rhein-Maas
involved in different Project Baselines in Germany and Project Baseline Sardinia
Special interests
Conservation of underwater environments
Marine biology and limnology
Hyperbaric Physiology
Functional Strength Training
Publications
The Principles of Evolution: What Project Baseline Initiatives Can Learn from Darwin, Quest Vol. 18 No. 1
Languages
German
English
French (basic, no teaching!)
Italian (basic, no teaching!)
Swedish (basic, no teaching!)
Additional Info

I'm happy to travel for classes. For individual classes get in touch!