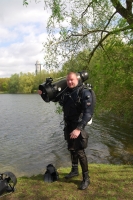 View Scheduled Classes
Classes I teach:
Discover Diving
Recreational Supervised Diver
Recreational Diver 1 - Nitrox
Recreational Diver 2 - Triox
Doubles Diver
Drysuit Diver
Triox Primer
Rescue Primer
Navigation Primer
DPV Diver 1
Richard van de Logt
Netherlands
Belgium
+ 31 6 26144274
richardvandelogt@gue.com
richard@vande-logt.nl
www.aalscholvers.nl


Professional
Operational manager at Rijnart Transport
Diving Qualifications
GUE Instructor for:
- Discover Diving
- Recreational Supervised Diver
- Recreational Diver 1 - Nitrox
- Recreational Diver 2 - Triox
- Doubles Diver
- Drysuit Diver
- Triox Primer
- Rescue Primer
- Navigation Primer
- DPV Diver 1
Diving Qualifications:
- GUE Dpv Cave
- Normoxic Trimix
- PADI Divemaster
Diving Experience
Diving since 1988.
in total +5000 dives
+350 dpv dives
+70 tech dives
+150 wreck dives
+200 cave dives
Community Involvement
Project Baseline Nionplas, started the project in 2013 with installing measurement points - every year clean up dives - and taking measurements every month.
Project Baseline Oostplas Goirle
Special interests
My wife and son
Active vacations
Cave diving
Languages I teach classes in
Additional languages
Nederlands (Dutch)
English
some French and some German
Additional Info

I started diving at the age of 10, in the years after we went diving a lot in the Netherlands, Belgium and on vacations all over the world.
In 1998 I became a Padi Divemaster and assist in a lot of courses.
Around 2005 I took technical courses because I was hooked on wreck diving and in 2007 our local diveshop "de Aalscholvers" advised me to take a GUE Fundamentals course. After this course my previous courses fell into place and diving became much easier, saver and more fun !
So I decided to became a REC 1 instructor to give starting divers this experience from the start of their diving career and to expand our recreational diver community.