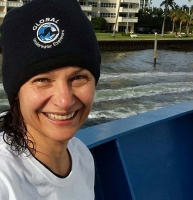 View Scheduled Classes
Classes I teach:
Professional
Education
Humboldt State University
Bachelor of Arts, Geography (2007)
Environmental Focus
*
San Francisco State University
Master of Arts, Geography (2016)
Thesis Topic: Reef Conservation
Diving Qualifications
GUE Cave 2, Tech 1, DPV Diver
GUE Instructor: Fundamentals, Drysuit Primer, Doubles Primer
Diving Experience
1,500+ logged dives
1,200+ dives in doubles
1,200+ dives in a drysuit
350+ cave dives
100+ DPV dives
Community Involvement
2010–Present actively involved in building our local GUE community & mentoring divers
2012-Present co-Founder of FLUE (Florida Underwater Explorers) and active member
2012-Present WKPP Support Diver
2015-Present Project Baseline, Gulfstream (South Florida)
2015-Present Cave Survey, Mexico, Sistema Sac Actun
2016 Project Baseline Port Everglades
2015 Project Baseline Key West to Dania Beach
2012 Ox Bel Ha Mexico MCEP (Mexico Cave Exploration Project)
2011 Ox Bel Ha Mexico MCEP (Mexico Cave Exploration Project)
2011 BAUE Point Lobos Mapping Project
2010 Ox Bel Ha MCEP (Mexico Cave Exploration Project)
2010 BAUE Point Lobos Bathometric Mapping Project
2010-present BAUE (Bay Area Underwater Explorers) - Inactive Member
Special interests
Mexico Caves
Adventure travel and indigenous cultures
Anything outdoors (Hiking, camping, rock climbing, mountain biking, etc)
Former sponsored aid/rock climber
Languages
Additional Info

My passion for the underwater world started as a kid in the mid-1970s. We explored the Florida Keys (for many years) with simply a snorkel and a mask. I earned my Open Water certification in Bali Indonesia in 2006 and was first introduced to GUE in 2009. After learning to dive, I spent several years with BAUE exploring the beautiful kelp forests of Monterey, California before moving back home to South Florida to be closer to family and the caves. These days, I dive mostly in Southern Florida on wrecks and reefs, enjoy weekend trips to the North Florida caves and travel to the Mexico caves as often as life permits.