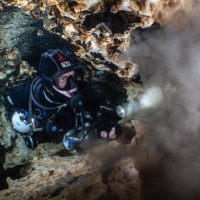 View Scheduled Classes
Classes I teach:
Discover Diving
Recreational Supervised Diver
Recreational Diver 1 - Nitrox
Recreational Diver 2 - Triox
Recreational Diver 3 - Trimix
GUE Fundamentals
Doubles Diver
Drysuit Diver
Navigation Primer
Rescue Primer
Triox Primer
DPV Diver 1
DPV Cave
Documentation Diver
Cave Diver 1
Cave Diver 2
Cave Sidemount
Triox Cave Upgrade
Recreational Dive Leader
Professional
2004 to present GUE Instructor
2009 to 2017 Co-owner UnderWater Frontiers
2003 to 2009 Lloyd Triestino Naval Shipping Company
1996 to 98 dive guide for 14° Est
Education
(2001) Political Sciences. Economical and sociological aspects of E-Learning. University of Trieste, Italy.
Diving Qualifications
Cave2 Instructor - GUE
Recreational Instructor - GUE
RB80 Rebreather Diver - GUE
Hyperbaric Technician GSE
Diving Experience
22 years of diving
2000+ logged dives
1000+ cave dives
750+ wreck dives
Cave diving experience in Italy, France, Bosnia & Herzegovina, Portugal and Slovenia.
Community Involvement
Project manager Project Baseline Sardinia
Founding Member of DIR Italia www.diritalia.it
Founding Member of Alviela Project www.alviela.org
Exploration diver in Karst Odyssey Project
Member of Mexico Cave Exploration Project
Former EKPP Member
Founding Member WDS
Special interests
Cave exploration, conservation and survey
Wreck research and exploration
Publications
Quest 2004, 2006, 2007,2009,2013
Languages
Italian, English, Spanish