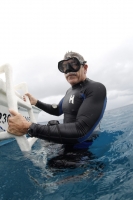 View Scheduled Classes
Classes I teach:
Discover Diving
Recreational Supervised Diver
Recreational Diver 1 - Nitrox
Recreational Diver 2 - Triox
GUE Fundamentals
Doubles Diver
Drysuit Diver
Triox Primer
Rescue Primer
Navigation Primer
DPV Diver 1
DPV Cave
Scientific Diver
Cave Diver 1
Cave Diver 2
Triox Cave Upgrade
Cave Sidemount
Recreational Dive Leader
Professional
C.O.O. - Halcyon Manufacturing Inc.
Messersmith Development Company, Inc. specializing business to business consulting and new product development.
Diveshopforsale.com a business brokerage firm specializing in the purchase and sale of scuba diving related businesses.
Formerly an executive with a few international entertainment companies.
Research Associate - Hubbs-Sea World Research Institute
Co-Training Director and rebreather diver for the Woodville Karst Plains Project
Education
1981 B.A. University of California, Los Angeles - Biology
1986 M.B.A. Pepperdine University - Business
Diving Qualifications
Board of Director GUE
Instructor Examiner GUE
Cave Instructor GUE
Rebreather GUE
Assorted other certifications
Diving Experience
4000+ Dives
2500+ Dives in caves
thousands of dives utilizing stage bottles
hundreds of dives utilizing Diver Propulsion vehicles
hundreds of hours of Rebreather Experience
Prototype Test Diver
Special interests
I started diving as a kid in the late 60's and have been in and around the water my entire life. After many years playing many organized sports, I now spend most of my leisure time cave diving in North Florida. My wife of 37 years and I participate in a number of Christian activities.
Publications
Photographs and articles in a variety of publications including Time Life and National Geographic